Phonics Anchor Charts, Posters | Phonics Lessons, Activities, Rules, Games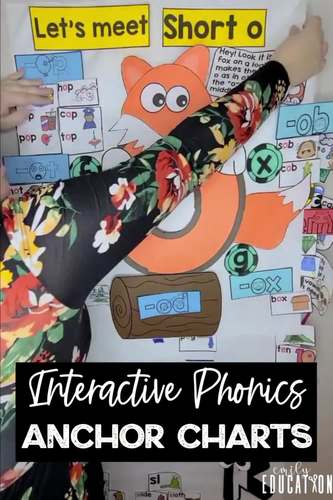 ;
What educators are saying
I absolutely love this! Once it was all put together, I laminated it to make it last. So happy with this purchase.
These are a great way to help students learn their sounds. It is very interactive and the students are engaged.
Products in this Bundle (32)
showing 1-5 of 32 products
Description
Are you looking for phonics intervention and lessons that are engaging? Help your students master important phonics rules with these interactive phonics anchor charts.  These anchor charts can be the basis of your phonics lessons and make a great, interactive mini-lesson for teaching a variety of phonics skills. This also aligns with Science of Reading! When you are done, hang them as phonics posters to provide a learning tool for your students to refer back to.  Your students are an integral part in the creation of each anchor chart, and the coordinating activities.  Students love and connect to the characters who take center stage on each anchor chart.  Through the use of these characters and colorful visuals, students are able to learn and remember key phonics skills faster.  
This BUNDLE of phonics anchor charts will include short vowels, long vowels, digraphs, blends, and more!  And . . . there is no drawing or artistic skill needed!  Everything you need to provide your students with a visual and interactive learning tool is included.  The included teacher instructions will guide you through how to create and use the interactive phonics anchor charts.  Everything you need to create the anchor chart is ready to print and use!  Want to see how I use these in my classroom?  Visit the website for lots of examples.
Interactive Phonics Anchor Charts Growing Bundle includes:
Teacher Instructions and Tips for Using the Phonics Anchor Charts
Ready to Print Anchor Chart Elements
Color and Black & White options for interactive word cards
Hang finished anchor charts as phonics posters to provide a reference tool for students
This goes perfect with my Interactive Phonics Crafts and Directed Drawings
⭐Bundle and save for a discount!⭐
By purchasing this bundle, you will save 45% off the price. If you choose to purchase each unit individually, you will spend a total of $125. Bundle and Save!
Interactive Phonics Anchor Charts Bundle will include:
Short Vowels -
Short vowel  A
Short vowel E
Short vowel I
Short vowel O
Short vowel U
Long Vowels
Silent e VCe - Available Now
Long A vowel teams and spelling patterns
Long E vowel teams and spelling patterns
Long I vowel teams and spelling patterns
Long O vowel teams and spelling patterns
Long U vowel teams and spelling patterns
ew as Long U and y as Long I
Digraphs -
Digraph SH
Digraph CH
Digraph TH
Digraph WH
Blends -
S Blends
L Blends
R Blends
Final Blends ND, NT, NK, MP
Additional Final Blends
NG Blend Ending
Other Phonics Skills
Double Final Consonants
R Controlled Vowels
Inflections s, es
Contractions
Vowel Diphthongs
Compound Words
Three Sounds of ed
Vowel Digraph oo Words with oo as in book and oo as in moon
Hard and Soft C
Hard and Soft G

Teachers like you said…
⭐⭐⭐⭐⭐ "This product is amazing. I need it as much as the students do. I am learning phonics right along with them. Anything that gets my students engaged in learning is a great idea! This product hits the spot." -Rosie
⭐⭐⭐⭐⭐ "These are perfect to pair with our Phonics instruction to provide visuals for students. They especially loved helping me build the anchor charts for the class." -Susannah
⭐⭐⭐⭐⭐ "LOVE THIS! We use the alphabet anchor charts and they are wonderful! These are and added resource and benefit my students." -Roxanne
More Fun and Engaging Interactive Anchor Charts:
Report this resource to TPT