Phonics Games & Activities BUNDLE | Phonics Cootie Catchers & Fortune Tellers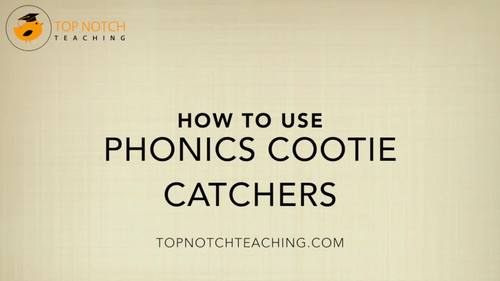 ;
What educators are saying
My students found them a bit tricky to fold, but loved making and using them to consolidate their learning.
Products in this Bundle (7)
showing 1-5 of 7 products
Description
There's nothing like a fun game to engage your students in learning. These Phonics Cootie Catchers and Phonics Fortune Tellers are a great way to get your students reviewing important phonics skills. Not only do kids love creating these hand-held games, but these folded paper activities will have them reading and spelling in no time! 
This Phonics Cootie Catcher & Fortune Teller Bundle includes over 100 skill based templates ready for your students to fold and play! Whether you call them cootie catchers, fortune tellers, chatterboxes, or something else - they are loved by kids of all ages! 
Test drive this phonics cootie catchers bundle with this freebie.
***Buy the Phonics Cootie Catchers & Fortune Tellers BUNDLE and save 30% off the price of the individual packets.***
Phonics Cootie Catchers & Fortune Tellers Bundle includes:
Over 100 cootie catcher & fortune teller templates for the following skills:
Consonant Blends (Beginner) VCC CVCC CCVC Words
Consonant Blends (Advanced) CVCCC CCVCC CCCVC CCVCCC CCCVCC Words
Digraphs
Vowel Sounds
Word Overview Sheet
Instructions for Making and Using Cootie Catchers & Fortune Tellers
What Teachers Are Saying:
"Worth every penny! The kids love these, it doesn't even feel like learning to them! Thanks!"
"I was quite shocked when fortune tellers came back and students were obsessed with it. I mean, this was popular back in 1999.... needless to say, I love that you caught on and created such an engaging packet that is hip and highly motivating for students to create and use."
"These are awesome. So creative and I'm positive the kids will love them. Thanks."
"Already having lots of fun and review with these! Thanks much!"
"Thanks for a valuable resource!"
The six individual packs in this bundle highlight the following sounds and spellings.
Pack 1 - CVC Words
Set 1: a, i, m, n, o, p, s, t
Set 2: b, c, g, h
Set 3: d, e, f, v
Set 4: k, l, r, u
Set 5: j, w, x, y, z
Pack 2 - VCC, CVCC, CCVC Words
Set 1: VCC and CVCC words
Set 2: VCC and CCVC words
Pack 3 - CVCCC, CCVCC, CCCVC, CCVCCC, CCCVCC Words
Set 1: CCVCC words
Set 2: CVCCC and CCCVC words
Set 3: CCVCC and CCVCCC words
Set 4: CCVCC, CVCCC, CCCVC and CCCVCC words
Pack 4 - Digraphs
Set 1: sh
Set 2: ch
Set 3: ck
Set 4: th
Set 5: ng
Set 6: qu
Set 7: wh
Set 8: le
Pack 5 - Phonics Set A
Set 1: Sound /ae/, Spellings: ay, ea, a-e, ai, a, eigh, ei
Set 2: Sound /ee/, Spellings: e, ea, y, ee, ey, ie
Set 3: Sound /oe/, Spellings: o, oa, ow, o-e, oe
Set 4: Sound /er/, Spellings: er, ir, or, ur, ear
Set 5: Sound /e/, Spellings: e, ea
Set 6: Sound /ow/, Spellings: ou, ow
Set 7: Sound /oo/, Spellings: oo, ew, ue, u-e, ui
Set 8: Sound /ie/, Spellings: i, ie, y, i-e, igh
Pack 6 - Phonics Set B
Set 1: Sound b/oo/k, Spellings: oo, u, oul
Set 2: Sound /u/, Spellings: u, o, ou, oo
Set 3: Sound /s/, Spellings: s, ss, st, c, ce, se, sc
Set 4: Sound /l/, Spellings: l, ll, al, el, il, le, ol
Set 5: Sound /or/, Spellings: or, aw, a, ar, au, al
Set 6: Sound /air/, Spellings: air, are, ear, ere, eir, ayer, ayor
Set 7: Sound /ue/, Spellings: ue, ew, u, u-e
More Fun Phonics Activities:
Remember, leaving feedback earns you points toward FREE TPT purchases.
Also, follow me to be notified when new products are uploaded.
Thanks
Melinda Crean
Teaching Duration
Lifelong tool
Report this resource to TPT
Standards
to see state-specific standards (only available in the US).
Isolate and pronounce the initial, medial vowel, and final sounds (phonemes) in three-phoneme (consonant-vowel-consonant, or CVC) words. (This does not include CVCs ending with /l/, /r/, or /x/.)
Know and apply grade-level phonics and word analysis skills in decoding words.
Demonstrate basic knowledge of one-to-one letter-sound correspondences by producing the primary sound or many of the most frequent sounds for each consonant.
Demonstrate understanding of spoken words, syllables, and sounds (phonemes).
Orally produce single-syllable words by blending sounds (phonemes), including consonant blends.