Phonics Games Activities Roll Color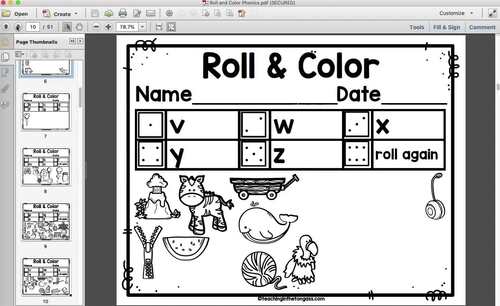 ;
Description
These Roll and Color Phonics Activities are the perfect additional practice for sound spelling review or an early finisher activity. Included you will find 23 pages of roll and color phonics pages, plus color coded answer keys for each page with words so students can check their own work or have a partner check.
Pages are organized by the following sound spelling patterns and include at least 1 image per sound:
1. a, e, i, o, u
2. b, c, d, f, g, h
3. j, k, l, m, n
4. p, q, r, s, t
5. v, w, x, y, z
6. at, ap, am, an, ag, ab
7. et, en, ed, em, ell, eck
8. ig, in, ip, it, id, ick
9. ob, og, op, ot, ock
10. ub, ug, up, ut, un, ump
11. sh, ch, th, wh, ck, ng
12. a_e, ai, ay, ea, ei
13. e_e, ea, ee, ey, ie, y
14. i, y, igh, ice, ime, ine
15. o, oa, ow, oe, o_e
16. u, ew, ui, ute, ube, une
17. sk, sl, sn, sp, st, sw
18. br, cr, dr, fr, pr, tr
19. bl, cl, fl, gl, pl, sl
20. ar, ir, er, ur, or, ore
21. ow, ou, oi, oy, aw, au
22. dge, ge, gi, ce, ci
23. kn, gn, wr, mb, gh, ph
*This resource is NOT editable. 
All rights reserved © Teaching in the Tongass
Report this resource to TPT
Standards
to see state-specific standards (only available in the US).
Isolate and pronounce the initial, medial vowel, and final sounds (phonemes) in three-phoneme (consonant-vowel-consonant, or CVC) words. (This does not include CVCs ending with /l/, /r/, or /x/.)
Know and apply grade-level phonics and word analysis skills in decoding words.
Demonstrate basic knowledge of one-to-one letter-sound correspondences by producing the primary sound or many of the most frequent sounds for each consonant.
Distinguish long from short vowel sounds in spoken single-syllable words.
Orally produce single-syllable words by blending sounds (phonemes), including consonant blends.