Phonics Games BUNDLE | Long Vowels | Literacy Centers for 1st Grade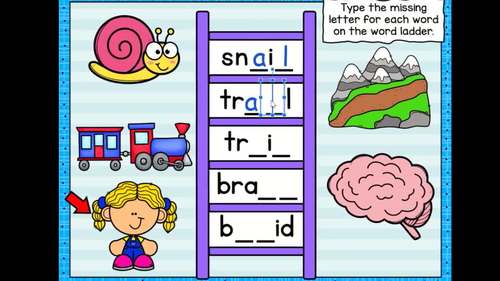 ;
Zip

Google Apps™
Includes Google Apps™
This bundle contains one or more resources with Google apps (e.g. docs, slides, etc.).
What educators are saying
This is exactly what I needed for my Google sides! After the concept was taught, I could easily informally assess if students understood.
Amazing resource!! These are my go-to resources for our word work time. Very minimal prep from me and my kids seem to really enjoy them. I can't say enough good things!
Products in this Bundle (9)
showing 1-5 of 9 products
Also included in
Looking for fun phonics activities? This bundle of phonics games will help your students master decoding while building a solid foundation in 1st grade reading! The digital phonics centers cover short vowels, long vowels, silent e, vowel teams, consonant blends, digraphs, 3 letter blends, as well as

Price $74.00

Original Price $122.75

Save $48.75
Description
Looking for fun phonics activities? This bundle of long vowels phonics games will help your students master decoding CVCE words and vowel teams while building a solid foundation in 1st grade reading!
Following the principles of and the , this NO-PREP for silent e and vowel teams is just what you need for your reading centers, phonics centers, phonics intervention, or other decoding practice. This is perfect for reviewing words with long vowel sounds in 2nd grade reading centers, too!
Save your planning time AND increase student engagement with phonics review games! Digital resources provide busy teachers with an excellent , especially given how tech savvy our students are now.  
What You Need to Know Right Now!
Focused Phonics Review
9 Long Vowel Games
high frequency words / sight words
200+ interactive Google Slides
No Prep - Click and Go!
Students & Teachers LOVE them!
Works best with Google Classroom for independent practice
This is a BUNDLE of DIGITAL Google Slides files so there's NO PREP OR PAPER NEEDED!
Focus skills Included in this BUNDLE-
Word Building with letter tiles - Spell words with long vowels
Matching words to pictures - Match words to correct picture
Missing letters from words - Write beginning, middle, & ending sounds of words 
Sentence building with word tiles - Unscramble the sentence
Decodable passage - Read decodable passage and mark words with long vowels
Sound puzzles - Solve puzzles based on onset-rime
Word building puzzles - Unscramble the long vowel words
Sound sort - Sort images and words by sound
Word ladder - Fill in the beginning, middle, & ending sound of words 
Picture graph - Create a graph using icons representing the words with long vowels
Word search - Find and mark long vowels words in the puzzle
Creative writing - Write sentences and/or stories using long vowels
Recommended Ways to Use these Phonics Activities:
Independent Work
Literacy Stations
Differentiation
Choice Boards
Whole Group Instruction
Reading Groups
Extra Practice
Early Finishers
1:1 with the Teacher or Tutor
Intervention
RTI / MTSS
Phonics Homework
You will get: A downloadable pdf file that includes links to make a copy of both the student version and answer key. You'll want to ensure that you're logged in to the Google account in which you plan to use the resource.
You will need: Internet access, a Google account,  & a Google Classroom™️ (recommended, but not required)
Your students will need: Access to tablet or computer, Internet access, & a Google account
Looking for other phonics skills?
Related Phonics Resources
⭐ALL ACCESS Phonics Skills Word Work Bundle
⭐Spoons Games - All Phonics Skills
⭐Digital & Printable Phonics Puzzles
Let's Connect! TPT | FACEBOOK | INSTAGRAM | PINTEREST | TeacherMood BLOG
Remember to leave feedback to earn TPT credits. These credits give you discounts on any future purchases.
Report this resource to TPT
Standards
to see state-specific standards (only available in the US).
Add or substitute individual sounds (phonemes) in simple, one-syllable words to make new words.
Know and apply grade-level phonics and word analysis skills in decoding words.
Associate the long and short sounds with common spellings (graphemes) for the five major vowels.
Read common high-frequency words by sight (e.g., the, of, to, you, she, my, is, are, do, does).
Distinguish between similarly spelled words by identifying the sounds of the letters that differ.