Phonics Lessons with Phonemic Awareness | Structured Literacy Digital BUNDLE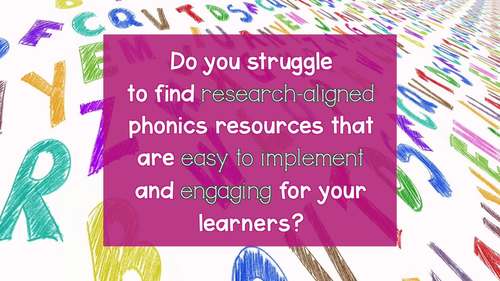 ;
Google Slides™
Includes Google Apps™
This bundle contains one or more resources with Google apps (e.g. docs, slides, etc.).
What educators are saying
I use this for online tutoring. It works very well and covers the skills I am focusing on. Greatly reduces my prep time
LOVE THIS! My kids really enjoy doing the slides and I can tell they are learning from them! Great product!
Products in this Bundle (30)
showing 1-5 of 30 products
Description
These NO-PREP, research-aligned structured literacy phonics lessons (with phonemic awareness included), containing over 2,000 animated digital slides, will save your planning time and keep your K-2 students engaged, whether you are in person or teaching remotely.
These lessons are effective for teaching foundational literacy skills to all students, including your intervention, Special Education, and English Language learners.
Perfect for whole group, small group, distance learning, hybrid, homeschool, or tutoring.
Most phonics lessons include "word chains", which is an effective strategy to build strong reading habits in children. Students will see only one letter change at a time (slip, snip, snap, snack, stack, stick, etc.), which trains them to look and read carefully, building their word-reading accuracy and fluency. See 0:54 to watch this ("speed round") in the video preview.
Click the PREVIEW button to see everything included in this resource!
By purchasing this convenient, easy-to-use bundle, you are saving nearly 50% off the price of the individual lessons. The full value of this bundle is $101.00!
What Is Included in This GROWING Resource? (additional lessons will be added over the next six months)
How to Use This Resource to Teach Phonics and Phonemic Awareness Effortlessly
Just open up the presentation you need, share your screen, and read the speaker notes to guide you and your students through all of the reading and spelling activities.
PLEASE NOTE: ALL 30 RESOURCES are Google Slide™ Presentations. TPT requires that you allow access to your Google Drive™ so that the resources may be added. Thank you!
If you have any questions about this resource, feel free to email me at pamela@phonolovable.com.
Customer Tips:
Leave a rating and quick review of any product and earn credit towards future purchases.
Go to the tab in your account and look for the button next to your purchase. Click it and you'll be taken to a page where you can give a rating and leave a short comment for any product.
Remember to follow my store to receive discounts and updates on new resources. You will receive 50% off when you buy a new, non-bundled resource within the first 48 hours!
Look for the green star next to my logo and click it to become a follower, or follow me by clicking here.
Would you like some free resources? Here's a link to my email list.
Get free resources, along with easy & effective teaching tips, when you sign up for the PhonoLovable Literacy Newsletter!
Here are some other places where you can stay in touch with me.
I hope that your students love learning phonics and phonemic awareness skills with these structured literacy lessons!
Thanks for visiting.
Pamela
PhonoLovable Literacy
Report this resource to TPT
Standards
to see state-specific standards (only available in the US).
Demonstrate understanding of spoken words, syllables, and sounds (phonemes).
Count, pronounce, blend, and segment syllables in spoken words.
Blend and segment onsets and rimes of single-syllable spoken words.
Isolate and pronounce the initial, medial vowel, and final sounds (phonemes) in three-phoneme (consonant-vowel-consonant, or CVC) words. (This does not include CVCs ending with /l/, /r/, or /x/.)
Add or substitute individual sounds (phonemes) in simple, one-syllable words to make new words.