Phonics Review Worksheet BUNDLE | Consonant Blends, Digraphs, Vowels, Diphthongs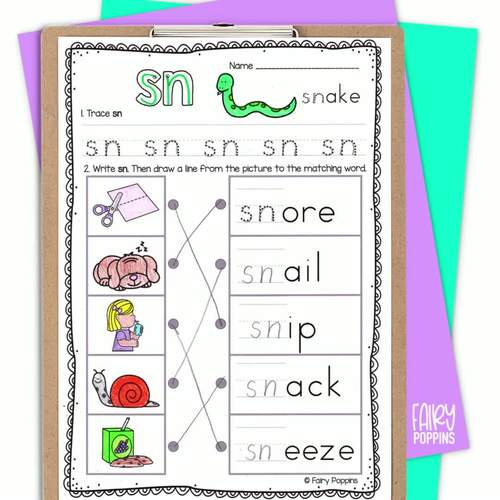 ;
What educators are saying
This is a great resource. Helps a lot in that it is low prep and the children find it engaging and they learn a lot from it.
What can I say? I use this constantly. I finally invested in the bundle. I use these comprehensions on a Friday after 2/3 days of learning the vowel sound. Brilliant bundle
Products in this Bundle (5)
Description
These phonics worksheet activities are perfect for independent work, literacy centers, homework or morning work. Cover pages are included too so that you can make up workbooks tailored to your student's needs. They're a wonderful time saver if you're looking for a way to reinforce phonics skills that is student friendly!
There are now five phonics workbooks included:
CONSONANT DIGRAPHS
ch, ck, ng, ph, qu, sh, th, wh
gh, gn, kn, mb, nk, wr
ff, ll, ss, zz
BEGINNING BLENDS
L Blends - bl, cl, fl, gl, pl, sl
R Blends - br, cr, dr, fr, gr, pr, tr
S Blends 0 sc, sk, sm, sn, sp, st, sw
tw
ENDING BLENDS
ct, ft, ld, lf, lk, lp, lt, mp, nd, nk, nt, pt, rd, rk, rm, rn, rp, rt, sk, sp, st
lb, lm, rf, rl, xt
LONG VOWELS & VOWEL TEAMS
A: a-e, ai, ay
E: ea, ee, ey, ie, y
I: i-e, ie, igh, y
O: o-e, oa, oe, ow
U: u-e, ew, ue, ui
DIPHTHONGS
oo (book), oo (moon), ew
au, aw
oi, oy
ou, ow
Each pack includes:
Workbook cover pages
Contents page
Two worksheets per phonics focus
- Handwriting practice
- Write the blend to complete the words
- Word search
- Match the pictures to the words
Phonics mini book for children to make
Revision worksheet/s
Please see the individual workbooks and previews for more information.
I hope you love this resource!
YOU MAY ALSO LOVE...
>>> Blends - Highlight & Hole Punch
>>> Phonics Posters (Blends, Digraphs, Trigraphs & Vowel Graphemes)
>>> Within Word Pattern MEGA BUNDLE
FOLLOW ALONG!
★★★ Click here to follow me to get regular updates about new resources and awesome freebies ★★★
JOIN THE FP COMMUNITY!
>>> Fairy Poppins
>>> Instagram
>>> Pinterest
>>> Facebook
Sign up to my free newsletter on my blog to receive updates about new resources and freebies.
QUESTIONS, ISSUES OR REQUESTS
Please feel free to contact me via the "Ask a Question" tab. I value your feedback and am happy to help.
Need help with printing, downloading or opening files? Click here.
Report this resource to TPT
Standards
to see state-specific standards (only available in the US).
Orally produce single-syllable words by blending sounds (phonemes), including consonant blends.
Know and apply grade-level phonics and word analysis skills in decoding words.
Know the spelling-sound correspondences for common consonant digraphs.
Know final -e and common vowel team conventions for representing long vowel sounds.
Know and apply grade-level phonics and word analysis skills in decoding words.