Phonics Screener and Decoding Assessments Based on the Science of Reading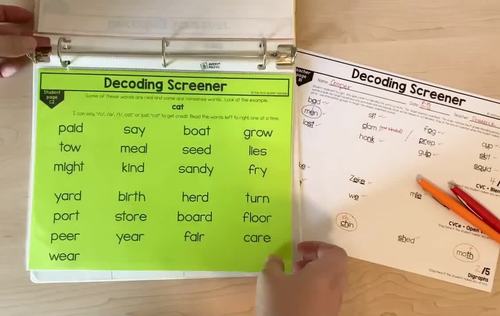 ;
What educators are saying
I love this. It helps me focus my flexible groups to impact learning skills even more. I love that it can be quick and easy and also used as data points if needed.
Description
Do you struggle grouping kids for intervention in phonics and reading? For me, the hardest part of switching to a Science of Reading based reading instruction was relearning reading groups. These phonics screeners and decoding assessments are a quick and accurate way to group kids for phonics intervention groups.
WHAT ARE DECODABLE PHONICS SCREENERS?
This decodable phonics screener is a quick and easy way to find the decoding gaps your K-2 students have and use that data to place them in intervention reading groups for decoding.
There are 3 phonics screeners in this resource:
– VC and CVC words to identify difficulties with blending certain letter sounds
– identifies decoding gaps from CVC to diphthongs and silent letters
– identifies gaps in advanced phonics skills, affixes, and common Greek & Latin roots
Each screener has a student page and a teacher page. Copy the student page on colored paper or cardstock and laminate. Use a teacher page for each student to record their decoding assessment data. You can use the same page all year long by using a different color pen each time you assess and dating your data.
None of the student pages mention grade levels so these can be used with older kids who are struggling as well.
These screeners match my sets of decodable readers and decoding passages. Shop all of those .
INCLUDED IN THIS DECODABLE PHONICS SCREENER AND ASSESSMENTS
Kindergarten decodable phonics screener
1st grade decodable phonics screener
2nd grade decodable phonics screener
Each screener includes a student page and a teacher recording page
Phonics pacing guide for Kindergarten, 1st grade, and 2nd grade
Data binder cover sheet and spine label (watch the video preview to see what my decoding assessment binder looks like)
RELATED RESOURCES
Reading Groups Assessment Teacher Binder
Copyright Whitney Shaddock, 2022, licensed for one classroom use only. Please use the multiple licensing option for more than one classroom use!
Let's Connect:
Report this resource to TPT
Standards
to see state-specific standards (only available in the US).
Follow words from left to right, top to bottom, and page by page.
Know and apply grade-level phonics and word analysis skills in decoding words.
Demonstrate basic knowledge of one-to-one letter-sound correspondences by producing the primary sound or many of the most frequent sounds for each consonant.
Associate the long and short sounds with common spellings (graphemes) for the five major vowels.
Know and apply grade-level phonics and word analysis skills in decoding words.