Phonics & Spelling - 1st Grade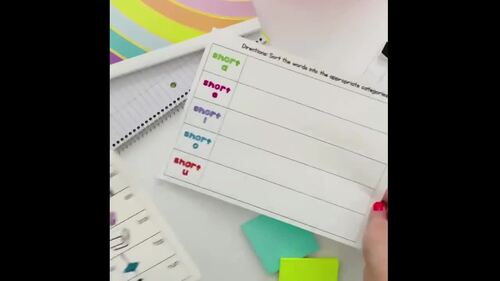 ;
What educators are saying
This is a great spelling resource! With the pandemic, a lot of my firsties came in missing some of these skills so this product has been wonderful!
Also included in
❀Grow❀ great spellers! This comprehensive spelling and phonics bundle is fun and effective. These lessons on phonics and word patterns will get your 1st or 2nd grade students fully engaged in word study and acing those spelling tests. Includes 56 scaffolded 1st & 2nd grade spelling and phonics w

Price $17.92

Original Price $28.00

Save $10.08
Learning Objective
Students will learn first-grade spelling and phonics patterns through word study techniques including hands-on sorts, worksheets, and other activities.
Description
❀Grow❀ great spellers with effective, pattern based process that is supported by the Science of Reading. This comprehensive year long spelling and phonics unit is fun and effective. These spelling lists are based on phonics patterns to get your 1st grade students fully engaged in word study. Includes 29 scaffolded 1st grade spelling and phonics word lists for meaningful and differentiated instruction, word sorts, practice worksheets, and activities for the entire year.
❀Lists are sequentail and developed with the Science of Reading in Mind. Lists were revised and written by teachers with Orton Gillingham traning.
❀Includes decodable passages for each spelling pattern so students can apply the pattern to text.
✏️Effective Learning Method - Students utilize phonics and pattern based spelling techniques to go beyond rote memorization. Patterns are sequental and develpmentally appropriate based on research based approaches.
✏️Diagnostic Test - Initial diagnostic test helps teachers assess current skills and group their students for groups accordingly.
✏️Differentiation - This resource includes instructions for a strategy to implement differentiated word study groups.
✏️Scaffolded Word Lists - 29 different word lists are scaffolded based on a phonics continuum of first grade skills.
✏️Practice Worksheets - For each list, there are meaningful practice worksheets designed specifically to make routines easy to implement.
✏️Comprehensive - Provides an entire year of spelling instruction and supporting resources. Can be used as primary spelling unit or as supporting resource.
1. Phonics Pre and Post Test Documents (7 pgs.)
2. Spelling Sort Cards, Spelling Sort, and Vocabulary Practice sheets for each of the following patterns (3 pages per unit)
CVC (Spelling Lists 1-5)
CVC Rhyming Words (Spelling Lists 6-7)
Endings -er (List 8)
Endings -ing & -ed (List 9)
Endings -s & -es (List 10)
Consonant Diagraphs ch-, ph-, sh- (List 11)
Consonant Diagraphs th-, wh-, ch- (List 12)
Ending Consonant Diagraphs –th, -sh, -ch, -dge (List 13)
Ending Consonant Diagraphs –tch, -ng, -ck (List 14)
Blends br-, cr-, dr- (List 15)
Blends fr-, gr-, pr- (List 16)
Blends br-, cr-, ar-, fr-, gr- (List 17)
Blends pr-, tr-, gr-, cr-, br- (List 18)
Blends bl-, cl-, fl- (List 19)
Blends gl-, pl-, sl-, bl- (List 20)
Blends gl-, cl-, fl-, pl-, bl (List 21)
Blends sc-, sk-, sl- (List 22)
Blends sm-, sn-, sp (List 23)
Blends sc-, sn-, st-, sm-, sn-, sp- (List 24)
Blends st-, sw- (List 25)
Blends scr-, spr-, spl- (List 26)
Double Consonants & Closed Syllables (List 27)
Ending Blends –nd, -ld, -st, -nk (List 28)
Ending Blends –ft, -nt, -sk (List 29)
Magic E (Lists 30-31)
Hard C/ Soft C (List 32)
Hard G/ Soft G (List 33)
Qu/ X (List 34)
3. Spelling Homework Choice Sheet
4. Spelling Practice Sheets (8 choices)
*If you have students who are above level, I recommend you purchase the 1st and 2nd Grade Bundle to further differentiate.
★ Amy J. said, "This is absolutely perfect for my students!"
★ Melzina L. said, "Lots of materials for the price."
★ Janice K. said, "Well done. Thank you!"
For copyright information and a summary of how this resource can and cannot be used, please review the Terms of Use Page.
******************************************************************************
1st & Second Grade Phonics & Spelling Bundle
******************************************************************************
How to get TPT credit to use on future purchases:
• Please go to your My Purchases page (you may need to login). Beside each purchase, you'll see a Provide Feedback button. Simply click it and you will be taken to a page where you can give a quick rating and leave a short comment for the product. Each time you give feedback, TPT gives you feedback credits that you use to lower the cost of your future purchases. I value your feedback greatly as it helps me determine which products are most valuable for your classroom so I can create more for you. ☺
Be the first to know about my new discounts, freebies, and product launches:
• Look for the green star next to my store logo and click it to become a follower. Voila! You will now receive email updates about this store. ☺
• Follow me on Facebook for updates on new products and sales
• Follow me on Instagram
*****************************************************************************
Report this resource to TPT
Standards
to see state-specific standards (only available in the US).
Demonstrate understanding of spoken words, syllables, and sounds (phonemes).
Distinguish long from short vowel sounds in spoken single-syllable words.
Orally produce single-syllable words by blending sounds (phonemes), including consonant blends.
Isolate and pronounce initial, medial vowel, and final sounds (phonemes) in spoken single-syllable words.
Segment spoken single-syllable words into their complete sequence of individual sounds (phonemes).