Phonics Word Search with Word Mapping - Science of Reading Games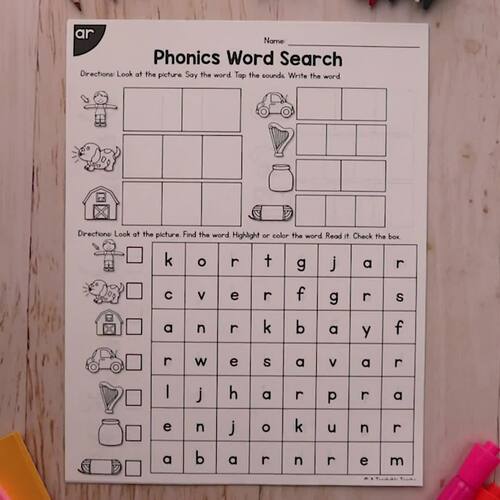 ;
105 engaging phonics pages
Products in this Bundle (7)
showing 1-5 of 7 products
Description
These meaningful phonics word search worksheets give your students the chance to practice word mapping (writing) and reading real words with newly learned phonics skills! These phonics games align to the Science of Reading!
These 100+ Phonics Word Mapping & Word Search pages are NO PREP!
· Look at the picture. Say the word. Tap the word. Write the word. (word mapping)
· Look at the picture. Find and highlight or color the word. (encoding)
· Check the box next to the picture to show that they found the word.
---This set of phonics worksheets ONLY uses ONLY decodable words!--
For example, you will not find the word sheep on the digraph SH page. This is because students have yet to learn long vowels when learning digraphs.
ab family (2 pages)
ag family
am
an
ap
at
ed + eg
en
et
id + im family
ig family
in family
ip family
it family
ob family
og + ox family
op family
ot family
ub family + um family
ug family
un family
ut family
mixed CVC practice (5 pages)
(decodable)
(not decodable; identified with an * in the corner)
- decodable
(beginning) - decodable
(ending) - decodable
- mixed (1 page)
- decodable
- decodable
mixed practice (2 pages)
beginning R blends
beginning S blends
beginning L blends
ending L blends
ending N blends
ending S blends
misc. ending blends (2 pages)
mixed beginning blends
mixed ending blends
a_e words
i_e words
o_e words
o_e + u_e words
mixed CVCe words - 3 pages
oa words
ow + oe words
ue + ui words
igh + ie words
Y (long i) words
Y (lng e) words
ea words (3 pages)
ee words (2 pages)
ai words (2 pages)
ay words
ew words
mixed practice (3 pages)
au + ou words
aw words
aw + oy words
oi words
oo (short) words
oo (long) words
ow words
mixed practice (3 pages)
ar
or
er
ur
ir
mixed practice (3 pages)
1 ► Leave me a ❓"question" in my TpT store OR
2 ► Email me Lauren@aTeachableTeacher.com
► Click HERE to follow my store and be notified when new resources are posted.
► Click HERE to join The Teachable Teachers!
Total Pages
105 engaging phonics pages
Report this resource to TPT