Phonics Worksheets - Unit 3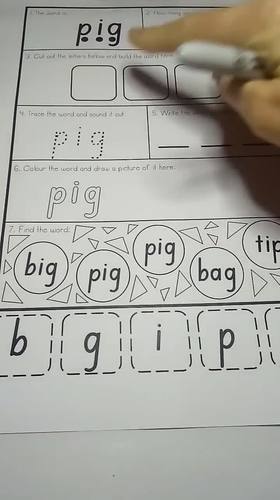 ;
Also included in
LiteracyI have created these worksheets to complement your current phonics programme, and to reinforce blending, segmenting, reading, writing, dotting and dashing (counting phonemes). This resource can be used alongside a synthetic phonics programme such as 'Sounds~Write.'All phonics worksheets foll

Price $16.00

Original Price $21.00

Save $5.00

LiteracyI have created these activities to complement your current phonics programme, and to reinforce blending, segmenting, reading, writing, dotting and dashing (counting phonemes). This MEGA resource can be used alongside a synthetic phonics programme such as 'Sounds~Write.'All phonics worksheets

Price $52.50

Original Price $70.50

Save $18.00
Description
I have created these worksheets to complement your current phonics programme, and to reinforce blending, segmenting, reading, writing, dotting and dashing (counting phonemes). This resource can be used alongside a synthetic phonics programme such as 'Sounds~Write.'
All phonics worksheets follow the same format:
- Reading the word (decoding)
- Using dotting and dashing to count the phonemes
- Manipulating letter tiles to build the word
- Tracing the word
- Writing the word
- Drawing the word
- Identifying the word amongst other words
This NO PREP resource focuses on new sounds/spellings: b, c, g and h.
UNIT 3 includes the following activities:
- 12 worksheets duplicated to cater for Aus/UK spellings and USA spellings
- Duplicate cards to play games
- Read and Sequence worksheets
- Checklist
- Spin a Word games
Use these worksheets as activities within the classroom, or send them home as a consolidation of the sounds covered in class. This is a great way to provide your students with the tools and strategies to master decoding, reading fluency and spelling.

Head on over to my Instagram account @_miss_carlee_ and follow me to see regular classroom inspo, resources and teacher wellbeing!
I am also on Facebook and post my new products and videos there too!
A QUICK TIP FOR YOU...
Did you know that you can earn TpT credits to use for future purchases? Go to your 'My Purchases' page and next to each product that you've already purchased, you will notice a 'Provide Feedback' button. Click on it and take a minute to provide some positive feedback! Every time you do this, TpT rewards you with credits, which you can use as a deduction toward future purchases!
I highly value your feedback and comments. It not only warms my heart, but it helps me to determine which resources are most valuable for teachers. I always look forward to creating new products and supporting you in the classroom!
Report this resource to TPT
Standards
to see state-specific standards (only available in the US).
Demonstrate understanding of spoken words, syllables, and sounds (phonemes).
Isolate and pronounce the initial, medial vowel, and final sounds (phonemes) in three-phoneme (consonant-vowel-consonant, or CVC) words. (This does not include CVCs ending with /l/, /r/, or /x/.)
Add or substitute individual sounds (phonemes) in simple, one-syllable words to make new words.
Know and apply grade-level phonics and word analysis skills in decoding words.
Demonstrate basic knowledge of one-to-one letter-sound correspondences by producing the primary sound or many of the most frequent sounds for each consonant.