Phonological Awareness Curriculum Multisensory Reading Intervention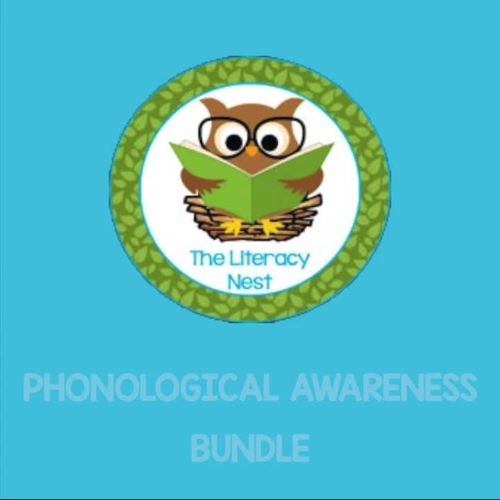 ;
What educators are saying
I use this with students I am tutoring. It worked great with kindergarten learners and had very engaging activities. I use parts of it with other students. Thank you
Game changer! I love ALL of it. Everything included is both meaningful and engaging. Learning targets are made so much simpler with these activities!
Description
Advanced phoneme manipulation has been added. A phonological awareness assessment resource has been added to this growing bundle to help get you and your students started!
This phonological awareness resource contains a wide variety of multisensory activities to teach phonological awareness with a special emphasis on phonemic awareness. It may be used in conjunction with the Orton-Gillngham approach, dyslexia intervention or other reading intervention programs.
What is included?
-Supply List, Children's Book List
-96 Teacher Task Cards with Phonological Awareness lessons in an easy to follow format.
-A complete phonological awareness assessment resource to help you get started.
-Tasks and Activities that follow a progression as follows: Listening, Rhyming, Alliteration, Syllables, Words and Sentences, Onset and RIme, Initial Sounds, Final Sounds, Medial Sounds, Phoneme Manipulation and Advanced Phoneme Manipulation
-An extensive variety of multisensory tasks and games for students, Many activities can be used whole class, small group or 1:1.
-Links to blog posts, and videos for further assistance.
-Games which involve sound isolation, segmentation, blending, substitution and deletion.
THIS RESOURCE IS INCLUDED IN THE COMPLETE OG PART TWO BUNDLE.
Click here to purchase The Complete O.G. Part Two.
NEW SPEECH SOUND CLIP ART HAS BEEN ADDED, WHICH HAVE BEEN APPROVED BY A LICENSED SLP.
*PLEASE NOTE. THIS BUNDLE HAS PREP INVOLVED BEFORE USING THE RESOURCES. The initial setup involves printing, cutting, laminating and some hole punching if you choose to have the materials last a long time. IF YOU ARE LOOKING FOR LOW PREP, this is NOT the resource for you. The initial prep takes the longest, BUT, once you get through that step, it is very easy to use after. It's worth the time it takes to set it up. Trust me. :)
*PLEASE DOWNLOAD THE PREVIEW TO SEE WHAT IS INCLUDED.
*CLICK HERE TO SIGN UP AND RECEIVE FREE PHONEMIC AWARENESS GAMES AND A SIX-PART EMAIL SERIES ON PHONEMIC AWARENESS.
Read Tips For Organizing Phonological Awareness Materials in a blog post I have published.
*IF YOU HAVE QUESTIONS OR CONCERNS ABOUT THIS RESOURCE, PLEASE FEEL FREE TO SEND ME A MESSAGE. THANK YOU!
The Literacy Nest, LLC creates multisensory activities to use with reading intervention for struggling readers. Many of these dyslexia resources can be used as dyslexia activities, dyslexia strategies, or to support an Orton-Gillingham program or dyslexia intervention program. These Orton-Gillingham activities can be used in 1:1 support, small group or even whole class. Thank for you for checking my store for Orton-Gillingham based resources.
*****************************************************************************
My Terms of Use: Purchases and freebies from my store are for a single user only. If you are looking to share, please purchase an additional, discounted license. All resources are for educational use only, and not for commercial use or resale in any form.
Questions or special requests before purchasing?
Feel free to send me a question or request via Q/A on TpT or email me at theliteracynest@gmail.com
Leaving Feedback
Please leave feedback on your purchases. If you have a concern, please contact me first before rating. Leaving feedback awards you credits towards future purchases.
How To Follow My Store
Just click the green star next to my name. You'll be the first to hear about new products, freebies and sales!
Thank you so much for choosing my store for your classroom and homeschooling needs!
Emily Gibbons, The Literacy Nest
Report this resource to TPT