Phonological and Phonemic Awareness Assessments and Activities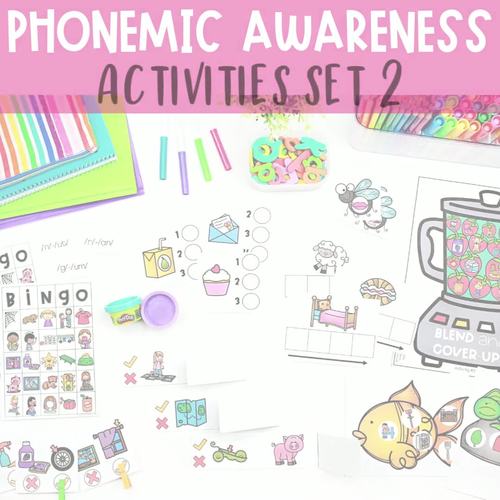 ;
What educators are saying
Great resource! Very engaging! It doesn't take too long to prep and then its ready for small group intervention time.
These phonics activites are everything! My students love them and look forward to them daily! Thanks for the fun!
Description
Phonemic awareness assessments activities can be fun and engaging! Use this set of 27 activities in small groups, whole group, or as interventions! This resource is filled with activities that support Response to Intervention for students in kindergarten, first grade, and even struggling second graders. It was created with the K-1 learner in mind.
Looking for the MORE ACTIVITIES? Grab them HERE!
This tool is meant to help you easily organize your phonemic awareness or intervention activities and data-keeping. You can use the assessment as a pre-assessment, then provide interventions using the activities provided, then re-assess to see if progress has been made. All of the data sheets are provided! It's all packed together!
Phonemic Areas Addressed:
Rhyming
Syllable Segmentation
Beginning Sounds
Ending Sounds
Medial Sounds
Blending Onset-Rime
Phoneme Blending
Deleting Phonemes
Segmenting Phonemes
Included are:
27 intervention activities (3 for each area addressed)
9 easy data recording sheets (1 for each area addressed)
9 phonemic awareness assessments (1 for each area addressed)
9 explanation pages (1 for each area addressed)
9 section dividers for each area addressed
Implementation Ideas:
guided reading groups
intervention time
volunteers to use 1-on-1
transition times (songs!)
Check out this blog post for 4 simple tips on managing RTI!
I am happy to answer any questions you may have before making your purchase. I hope you enjoy this product as much as I did in my classroom!
Happy Reading!
Amanda Richardson
Report this resource to TPT