Physical and Chemical Properties Sorting Activity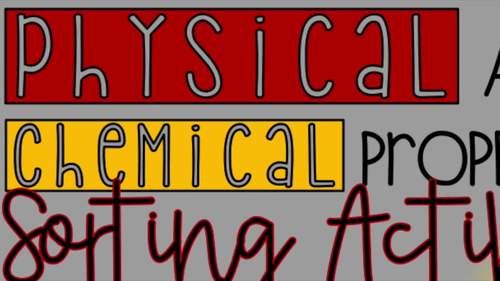 ;
Easel Activity Included
This resource includes a ready-to-use interactive activity students can complete on any device. 
Easel by TPT is free to use!
Learn more
.
What educators are saying
This was a great activity. Students were engaged and found this resource ti be very helpful in mastering physical versus chemical change.
Also included in
Do you need a big bundle of engaging matter activities and assessments? Add these activities to your matter lessons in your Chemistry or Physical science classroom to save you valuable time and energy, while providing you with priceless information about your students' understanding of the classific

Price $18.00

Original Price $26.25

Save $8.25

Extra time is not something that we teachers have an abundance of. Save the time that you do have with this BIG bundle of chemistry activities and assessments. You will receive all Science from the South Chemistry resources in this bundle for teaching, reinforcing, and assessing your students abou

Price $100.00

Original Price $172.75

Save $72.75
Description
Do you need a differentiated sorting activity to use as a formative or summative assessment that gathers information about your students' ability to recognize examples of physical and chemical properties of matter? Use this resource as a card sort, coloring page, or printable worksheet learning experience. The differentiation is perfect for using this product at home, for distance learning, or in the middle school or high school classroom. Need it digital? Access the version already created for you or create your own using the TpT Digital Activities tool.
Included: 4 modified (see note) versions of the worksheet, answer keys, how to guide
You May Also Like:
Matter Bundle of Activities and Assessments
BIG Chemistry Bundle of Activities and Assessments
Feedback and Followers:
Did you know that you can receive credit towards future TpT purchases by reviewing this product? Leave a review at the product page after you download the resource or through "My Purchases". Use your TpT credits that you earn to purchase other resources.
Do you want to be the first to know about new resources, FREEBIES, sales, and more? Click the green star next to my store logo to become a follower. And, simply use the links below to connect.
Happy Teaching!
Heather
NOTE: This resource is differentiated by activity type. Different versions, such as fill-in-the blank, matching, and coloring, of the same resource are included in the download. The options are available for you to choose which version works best for you and your students and to provide the appropriate task, level, and interest for each individual. Check out the preview.
Report this resource to TPT