Pi Day Digital Math Escape Room for Middle School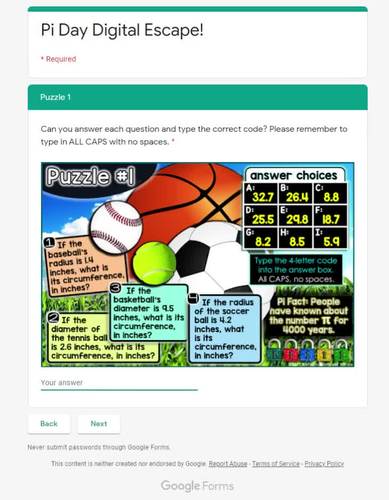 ;
PDF

Google Apps™
Includes Google Apps™
The Teacher-Author indicated this resource includes assets from Google Workspace (e.g. docs, slides, etc.).
What educators are saying
I had to be absent on Pi Day this year, this was a great activity that I could link on my Schoology page and have the kids work on with a sub.
Use this two years in a row now and it's a fun way to recognize Pi day! It took about 20 minutes of class time to complete.
Also included in
This bundle of digital math escape rooms will engage your 6th, 7th and 8th grade math students while being a breeze to assign. Topics covered include: integers, like terms, order of operations, fractions, decimals, percents, the coordinate plane, expressions, exponents, GCF & LCM, mean, median,

Price $50.00

Original Price $90.00

Save $40.00
Description
An engaging digital math escape room for Pi Day! In this activity, students work with the circle formulas to unlock 5 locks. Questions are grouped 4 per puzzle, resulting in five 4-letter codes that will unlock all 5 locks. Each puzzle also includes a fun fact about pi.
Students are asked to find either the area or the circumference of a circle, given diameter or radius in a word problem. Some of the problems use spheres or cylinders as context, but all questions ask for either area or circumference only.
The entire escape room is housed in one Google Form. There are no links to outside websites. Student data will be viewable from the "Responses" tab on your Google Form. The 4-letter codes are set with answer validation so that students cannot move to the next puzzle until they enter the correct code. This is a digital-only activity. Includes answer key.
(For a similar activity for older students, please see Pi Day Digital Math Escape Room)
: please open the PDF and click the blue text on page 2.
>> See all digital math escape rooms here.
You may also like:
Integer Operations Manipulative - print and digital
Report this resource to TPT
Standards
to see state-specific standards (only available in the US).
Know the formulas for the area and circumference of a circle and use them to solve problems; give an informal derivation of the relationship between the circumference and area of a circle.