Pip the Pup Books GALORE [a set of 50 NEW Pip the Pup Books]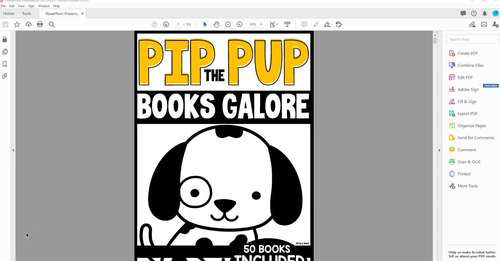 ;
What educators are saying
I love using Pip to introduce expectations throughout the year, and am so happy to have invested in this bundle so Pip can be translated over to our academics as well!
I love Pip the Pup! I love how kid friendly all the books are! I'm so excited to introduce Pip this year to my kids. I'm going to read these books for everything we do!
Also included in
* * SAVE BIG WITH THE BUNDLE! THIS BUNDLE CONTAINS $120 IN MATERIAL. GRAB IT ON SALE NOW! * * ** * * Questions? Click HERE to Instant Message me! * * * What packets are included? 1. Pip the Pup Books Galore (A set of 50 Pip the Pup books ranging from the alphabet, math, phonics, social skills, and

Price $50.00

Original Price $100.00

Save $50.00
Description
* * THIS PACKET IS PART OF VIP BUNDLE 4TH EDITION! SAVE BIG WITH THE VIP BUNDLE 4TH EDITION HERE * *

What is the Pip the Pup Books GALORE packet?

This packet is designed to offer a fun and engaging piece to your whole-group lessons. The packet contains 50 Pip the Pup books. The books range in topics from phonics, math, social skills, safety, and more. Pip the Pup is not just a cute Dalmatian. Pip the Pup has completely transformed classrooms around the world since her arrival in 2019. Pip the Pup assists educators in teaching those "hard to grasp" topics. Pip breaks the topics down into a kid-friendly way. Pip uses illustrations to elaborate on the topic. The books can be printed and bound or placed into a binder. The books can also simply be displayed via your interactive whiteboard.

* * * Questions? Click HERE to Instant Message me! * * *

What is included in the Pip the Pup Books Galore packet?



What books are included in the packet?
Letter Aa
Letter Bb
Letter Cc
Letter Dd
Letter Ee
Letter Ff
Letter Gg
Letter Hh
Letter Ii
Letter Jj
Letter Kk
Letter Ll
Letter Mm
Letter Nn
Letter Oo
Letter Pp
Letter Qq
Letter Rr
Letter Ss
Letter Tt
Letter Uu
Letter Vv
Letter Ww
Letter Xx
Letter Yy
Letter Zz
CVC Words
CVCe Words
Blend Words
Digraph Words
Counting
Addition
Subtraction
Numbers 0-10
Numbers 11-20
Shapes
Positional Words
Ordinal Numbers
Subitizing
Comparing
Bus Safety
Bike Safety
Water Safety
Sun Safety
Emergencies
Vacations
Friendship
Making New Friends
Cleaning Up
Recess

>> VIEW A FULL LIST OF ALL MY PIP THE PUP BOOKS HERE!

Would you like to receive notifications for my newly released packets and upcoming sale? Be sure to FOLLOW ME here on TPT!

**Join my private Facebook Group to join fellow Pre-K, Kindergarten, First Grade and Second Grade teachers that use my curriculum! Collaborate, chat and share ideas with like-minded teachers! Join the private Facebook group H E R E!
Visit my blog Little Minds at Work
Follow me on Facebook
Report this resource to TPT