Pirate Rhythm Chants: Music Lessons, Activities and Printables K-6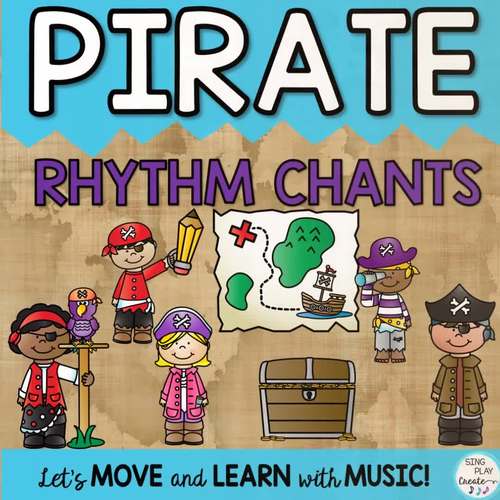 ;
Also included in
Fall Music Class for your K-6 students can be filled with students singing songs, playing games, instruments, composing, improvising in your Music Classroom using these interactive music lessons. The Fall Music Class Lesson Bundle includes 6 Resources with a variety of lessons, Mp3 Tracks, VIDEO an

Price $25.56

Original Price $35.50

Save $9.94

DISTANCE LEARNING/HYBRID/ Resource!Ahoy Matey's! Elementary Music Teachers. You can use these fine Pirate activities across your grade levels. There's treasure for everyone in this here bundle of Pirate Rhythms, Dance, Song, Chants, Google Slides Drag and Drop activities for "Talk Like a Pirate" Da

Price $25.92

Original Price $36.00

Save $10.08

­­­­­­­­­­­­­­­­­­­­­­­­­ Distance Learning MaterialsElementary Music Resources and curriculum with lessons and activities for the entire school year. Orff, Kodaly, Standards based music lessons for grades K-6. Imagine having music lessons for the entire school year for the general music classroom?

Price $256.65

Original Price $356.45

Save $99.80

Distance Learning Materials!Elementary Music Resources + Year Long Music Lessons K-6 BUNDLE is for Elementary music teachers who need a core set of materials for their general music program. The elementary music resources and YEAR LONG MUSIC LESSON BUNDLE provides an interactive music curriculum w

Price $286.38

Original Price $397.75

Save $111.37
Description
Ahoy Matey's! These here Music Class Pirate chants can help you and your students celebrate "Talk Like a Pirate Day" and learn, practice and perform rhythms. K-6 Applications. Upper and lower elementary students will love imitating pirates and chanting about their life in these original and rhyming rhythm chants. Perfect for a music program too!
RESOURCE INCLUDES:
K-6 Lessons- quarter, eighth, sixteenth notes.
• Three Music Lesson Plans with learning goals. Lesson Plans can be extended to cover between 4-6 class times.
• (8) Eight Pirate Chants.
4 Chants use quarter and eighth notes.
3 Chants use sixteenth, quarter and eighth notes.
• Each chant is written in three versions: Plain text, rhythmic text, text with rhythmic notation. (black and white plain text and rhythmic notation.)
• Pirate Beat Chart
• (6 ) Six Rhythm Writing Printables
• Write your own pirate chant printable.
• 1 Rhythm Composition printable in Color to use on a smart board.
• Movement activity using body percussion to play the rhythms.
• This resource comes in PDF and Power Point for easy printing and projecting!
USE THIS RESOURCE:
Music Program
Extension activities for Rhythms
Centers
Stations
Assessments
Perfect for your sub tub!
***Please note that Kindergarten through 2nd grade students may need to be taught the chants using echo voice. (Teacher speaks-students copy)
Regular Classroom Teachers: This resource can be used in your Literacy Stations. You can use the text only chants and the Mini-Chant cards for literacy stations. The Writing printable is appropriate for grades 1-6.
CHECK OUT THESE PIRATE RESOURCES:
I'm A Pirate" Song and Dance Activity
MORE RHYTHM CHANTS FOR MUSIC CLASS:
LITERACY ACTIVITIES
***********************
ABOUT SING PLAY CREATE LLC.
All products and works are copyrighted by Sing Play Create LLC. Buyers may get Free store credit by going to "my purchases" and click on "Provide Feedback". Ratings and helpful feedback are welcomed.
QUESTIONS? Please use the "Ask a Question" section of my TpT store. Or, you can email me at sandra@singplaycreate.com
CONNECT WITH ME HERE:
Sandra
Report this resource to TPT