Pirate Themed Narrative Retell & Comprehension | Pirate Palooza | Boom Cards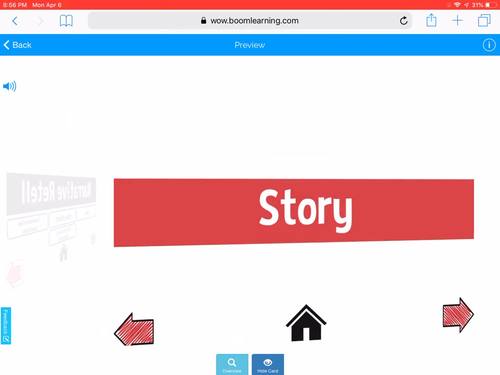 ;
What educators are saying
I am so glad i had something pirate themed to fit my theme the last few weeks. It was so easy to teach and I could see explicit progress immediately
This worked so well with my Pirate themed month of activities. The format and activity was engaging and I was able to target many areas with this one item.
Also included in
#july2022SLPsGoDigitalCheck the video previews below to get a glimpse of what is in this awesome bundle!!Pirate Palooza: Language Bundle 1Pirate Palooza: Language Bundle 2Pirate Palooza: Narrative Retell & ComprehensionArghhhh, mateys! This bundle will cover your entire caseload for WEEKS :) Not

Price $9.50

Original Price $12.00

Save $2.50
Description
Check the video preview to get a taste of what is in this awesome resource!
Ahoy, matey! Target narrative retell, story comprehension, and personal story generation embedded in the context of a fun, pirate-themed story!
This set includes:
Story with detailed, colorful graphic
Story pictures, sequenced, with story grammar icons ("hints")
Story comprehension questions with F03 visual supports included
Personal story generation prompt with "hints" to support generation
Character
Setting
Problem
Emotion
Idea/Attempt to solve problem
Ending
End Emotion
Check out the Pirate Palooza: Language MEGA Bundle! Get the rest of the series and snag the bundle discount!!
_________________
Enjoy this resource? I only create thematic/holiday narrative resources.
If you are looking for a more generalized and comprehensive resource for narrative language, then you need Story Champs!
Story Champs is a multi-tiered narrative-based language intervention curriculum which is founded in evidence-based principles of academic language and curriculum. It is backed by numerous research studies and, per my own opinion and experience, is worth every single penny! It also comes in English AND Spanish.
Learn more or get it !
The creators of Story Champs, Douglas B. Petersen and Trina D. Spencer, published an article called . Their teaching procedures and principles guide my practice and resources. It's a must-read. Check it out here.
I use Story Champs all year long with thematic stories sprinkled in throughout the year. 10/10 recommend it!
_________________
Are you looking for a fun, interactive NO PRINT, NO PREP distance learning activity to work on responding to a variety of language targets? Then you have found the right Boom Card deck!
They can be used on your computer, smart board, Ipad and are teletherapy-compatible. When the student chooses an answer, they receive immediate feedback (visual and auditory) on their response.
►When you download this product, you will receive a PDF with a link to the bundle of digital task cards on the Boom Learning Site. Click where it indicates and it will take you to the Boom learning site.
More information on Boom Cards:
To use Boom Cards, you must be connected to the Internet. Boom Cards play on modern browsers (Chrome, Safari, Firefox, and Edge). Apps are available for Android, iPads, iPhones, and Kindle Fires. For security and privacy, adults must have a Boom Learning account to use and assign Boom Cards. You will be able to assign the Boom Cards you are buying with "Fast Pins," (play provides instant feedback for self-grading Boom Cards). Fast Play is always a free way for students to engage with Boom Cards decks. For additional assignment options you'll need a premium account. If you are new to Boom Learning, you will be offered a free trial of our premium account. Read here for details: http://bit.ly/BoomTrial.
Please consider leaving feedback so that I know how to improve my products!
#teletherapy
#distancelearning
#distancelearningTPT
#SLPsGoDigital
#noprint
Report this resource to TPT