Place Value Boom Cards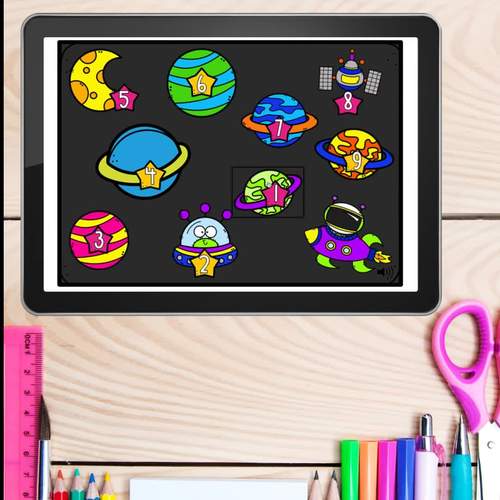 ;
Compatible with Digital Devices
The Teacher-Author has indicated that this resource can be used for device-based learning.
What educators are saying
We use boom cards all the time to help with student assessment and review as well. My class loved these they thought they were so fun and really enjoyed it.
This resource was fantastic for my students to practice grade level standards during independent work time! Thank you!
Description
Are you looking for an interactive, no prep, digital resource? Your students will LOVE this set of place value Boom cards that will take them through an engaging space adventure. Students will explore the different planets and solve multiple types of two digit place value problems!
This 20 card Boom deck will have students practicing matching numbers to representations, filling in tens and ones with digits and representations, and completing sequencing numbers!
Each activity card is also filled with voice directions for your students.
*Please check out my preview. This will lead you to a link that will allow you to play 4 cards to see exactly what the students will see.*
OTHER RESOURCES TO LOVE:

IT'S A DIGITAL TASK CARD!
Are you trying to go 1:1 in your classroom? Do you have devices, but not always sure how to keep your kiddos engaged with relevant material? Well, look no further - BOOM Cards are so COOL and you don't have to do a thing! Cards are randomized automatically! Meaning - each time your kiddos play it will be in a different order! When the student picks an answer, it either circles it green and says "Correct", or circles it red and says "Wrong Answer". It automatically goes to the next slide, and has many more cool features!

TRY BEFORE YOU BUY!

Click here to try a FREEBIE!

Please READ BELOW to understand how Boom Cards work! This purchase will give you a PDF that will lead you to the Boom Learning platform. ⭐ THIS IS A DIGITAL RESOURCE, PLEASE TAKE THE TIME TO READ BELOW ABOUT THIS PRODUCT, AND CLICK ON THE FREEBIE TO SEE IF THIS IS SOMETHING THAT WILL WORK FOR YOU!⭐

New to Boom Learning? Check out this video that explains all about using Boom Cards™.

WHAT IS NEEDED:
To use Boom Cards, you must be connected to the Internet. Boom Cards play on modern browsers (Chrome, Safari, Firefox, and Edge). Apps are available for Android, iPads, iPhones, and Kindle Fires. For security and privacy, adults must have a Boom Learning account to use and assign Boom Cards. You will be able to assign the Boom Cards you are buying with "Fast Pins," (play provides instant feedback for self-grading Boom Cards). Fast Play is always a free way for students to engage with Boom Cards decks. For additional assignment options you'll need a premium account. If you are new to Boom Learning, you will be offered a free trial of our premium account. Read here for details: http://bit.ly/BoomTrial.

You may be eligible for a free trial from Boom Learning. Read here for details: http://bit.ly/BoomTrial. If you choose not to stay on a premium account after your free trial, you will still be able to assign all your Boom Cards to as many students as you see fit using Fast Play pins (which give instant feedback for decks that are self-grading).

QUESTIONS OR CONCERNS
Email me at lindsaynsauer@gmail.com if you have any questions or concerns about this product. If you are not sure that this product will work for you, please check out one of the freebies. Keep in mind that the preview shows you what the game is going to look like.
Click the Green ★ to follow my store and get notifications when new resources arrive including freebies! New products are always 50% off for the first 24 hours they are posted!
I'd Love to Connect!

CUSTOMER TIPS

How to get TPT credit on future purchases:
Please go to the MY PURCHASES page. Under each purchase, you will see a PROVIDE FEEDBACK button. Click on it, leave feedback, and then you will receive credits for your purchase that you can use on future items (AS IN FREE MONEY to use on TPT)! I do read all the feedback! I can't respond to all of them, but I do value your feedback!

Thank you!
Lindsay Sauer ❤️
Report this resource to TPT
Standards
to see state-specific standards (only available in the US).
Count forward beginning from a given number within the known sequence (instead of having to begin at 1).
Write numbers from 0 to 20. Represent a number of objects with a written numeral 0-20 (with 0 representing a count of no objects).
Compose and decompose numbers from 11 to 19 into ten ones and some further ones, e.g., by using objects or drawings, and record each composition or decomposition by a drawing or equation (e.g., 18 = 10 + 8); understand that these numbers are composed of ten ones and one, two, three, four, five, six, seven, eight, or nine ones.
Count to 120, starting at any number less than 120. In this range, read and write numerals and represent a number of objects with a written numeral.
Understand that the two digits of a two-digit number represent amounts of tens and ones. Understand the following as special cases: