Place Value Craft | Place Value Activity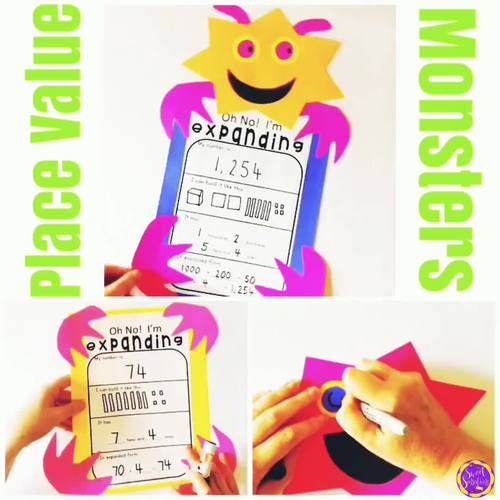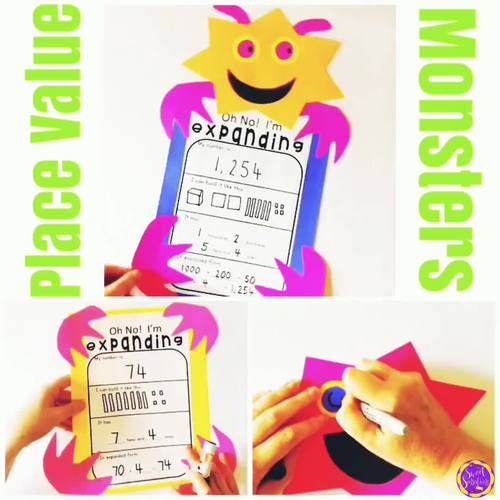 Created By
Sweet Sensations
Also included in:
Place value worksheets to print and go and expanding monster craft bundle. Ideal for first grade, but can be used with small intervention groups for differentiation and reinforcement, and for homework. Place Value Monster Craft is differentiated for 2, 3 and 4 digit numbers!Save when you buy this

You will love how easy planning is with this complete first grade math unit bundle. The 8 math units provide comprehensive coverage of standards, and the supplemental crafts and activities offer a hands-on high-interest approach to learning. Great for reinforcement, homework or group centers.By buyi
Product Description

Standards
Are you looking for a fun way to review place value and expanded form and to engage students? Tired of worksheet practice? These simple and colorful expanded form place value activity monsters are for two, three and four digit numbers for first and second grade, making this place value craft a fun and engaging way to show what students have learned! Easy to prep! Your admin will love seeing math combined with creativity - get set to impress! Makes a fantastic bulletin board display!
Step by step directions with photographs (Ideal if you want to have it as a math center activity - simply post the photos and leave for students to complete independently)
Templates for the monsters
Three "OH NO, I'm expanding!" worksheets, differentiated for 2, 3 and 4 digit numbers.
There are three monster head templates with interchangeable eyes and mouths so that your monsters can be as unique as your students. Give each student a different number with 2, 3 or 4 digits, to meet their needs. No two students will be working on the same number, but everyone will be making a monster in this differentiated but inclusive craft.
Each monster will need an 8.5 x 11" body background.
"Sometimes I have difficulty with quality, engaging, educational activities for my class and this hits the mark! I have used this activity with three different classes, it's been a hit each time. They love having choices with their monster creations and it's a quick way for me to assess their place value and number sense skills. It also looks super cute hanging on a bulletin board." - Courtneosaurus
"My kids did this activity during an evaluation and they loved it. I also had tons of people come to me when they were done to comment on the cute monsters in the hallway. I will do this every year! I gave the kids different numbers so I was able to differentiate the activity for all my kids! I cannot say enough good things about this!" - Melanie T
These monsters are very simple to make and will make your place value lessons come alive allowing easy differentiation for work on tens, hundreds and thousands!
***************************************************************************
Did you buy this when it was on sale? ALL PRODUCTS are discounted for the first 48 hours after uploading. Don't miss out!
Log in
to see state-specific standards (only available in the US).
Read and write numbers to 1000 using base-ten numerals, number names, and expanded form.
The numbers 100, 200, 300, 400, 500, 600, 700, 800, 900 refer to one, two, three, four, five, six, seven, eight, or nine hundreds (and 0 tens and 0 ones).
100 can be thought of as a bundle of ten tens - called a "hundred."
Understand that the three digits of a three-digit number represent amounts of hundreds, tens, and ones; e.g., 706 equals 7 hundreds, 0 tens, and 6 ones. Understand the following as special cases:
The numbers 10, 20, 30, 40, 50, 60, 70, 80, 90 refer to one, two, three, four, five, six, seven, eight, or nine tens (and 0 ones).
Report this Resource to TpT