Place Value Guided Video Lesson, Partner Dice Game, Write a Check Activity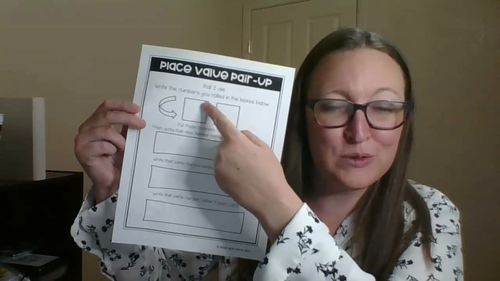 ;
Description
Need emergency sub plans? Or do you just need to reteach place value? This set includes guided video instruction, a partner dice game, and a BONUS check writing activity to help students learn standard, expanded & word forms. Place value is a HUGE standard in 4th grade and 5th grade, so let's give them lots of practice!
Let's be real.
We've all wished someone could just come and teach place value FOR us.
Well, your wish is granted, teacher friend!! ✨✨
I'll teach place value to your students with a video lesson and accompanied worksheet resources.
This mini video lesson is a great way to introduce place value to students who are brand new to the concept, or to review it as test prep before standardized testing.
It's also helpful for students who are struggling to write numbers in expanded, word, and standard number forms.
This mini-lesson also makes for a great reteach, test prep refresher, or differentiated assignment.
I designed the instructional video and resources for in-person, whole-group lessons that come before math center rotations - but if you're teaching online, you can easily adapt this activity by assigning everything in Google Classroom.
It's so hard to move past the basics when students don't understand place value. It's a huge concept for upper elementary students!
To truly get it, they need a LOT of practice - as well as tools to make it more concrete for them.
That's why this dice partner game and the added write a check activity are just what your students need to be successful.
Ways to Use This Resource Remotely
Assign the instructional video on Google Classroom
Stream the video during your live Google Meet or Zoom call
Use your own money as a demonstration, or have them share their screen while using an online money manipulative
Have students draw out bills and coins on white boards or paper, and ask them to hold their papers up to their cameras
Students can complete the dice-rolling worksheet at home, or they can use a free online app to roll dice
Students can use apps and digital manipulatives from sites like ToyTheater to access free dice
This Resource Can be Used As:
Daily center activity
Partner or group game
Morning bell work
Exit ticket
Check for understanding
Formative assessment for place value
BONUS TIP: Laminate the worksheets for ongoing use! These could be used again and again for math workshop, centers, activity stations or rotations.
This resource includes:
   ✏ An instructional video mini-lesson for students (about 12 minutes long)
   ✏ Short instructional PD video for the teacher (about 11 minutes long)
   ✏ Place value dice game worksheets up through seven digits
   ✏ Engaging check-writing activity to practice expanded, word and number forms
Materials needed:
✏ 7 dice per person, pair or group
✏ Pencils
✏ Real money would be ideal, but online money manipulatives work too
✏ Projector or screen with audio to play instructional video
If you like this resource, you might also like:
Please download the preview to view a sample of the included pages.
I'm so glad you stopped by my store and checked out this resource!
Follow my store to be updated about new products and sales.
Don't forget to leave feedback to earn credits toward future purchase by heading to MY PURCHASES in your Teachers Pay Teachers account. 
--- Brittany
Teaching Duration
30 minutes
Report this resource to TPT
Standards
to see state-specific standards (only available in the US).
Use place value understanding to round whole numbers to the nearest 10 or 100.
Recognize that in a multi-digit whole number, a digit in one place represents ten times what it represents in the place to its right. For example, recognize that 700 ÷ 70 = 10 by applying concepts of place value and division.
Use place value understanding to round multi-digit whole numbers to any place.
Recognize that in a multi-digit number, a digit in one place represents 10 times as much as it represents in the place to its right and 1/10 of what it represents in the place to its left.