Place Value Math Centers THIRD GRADE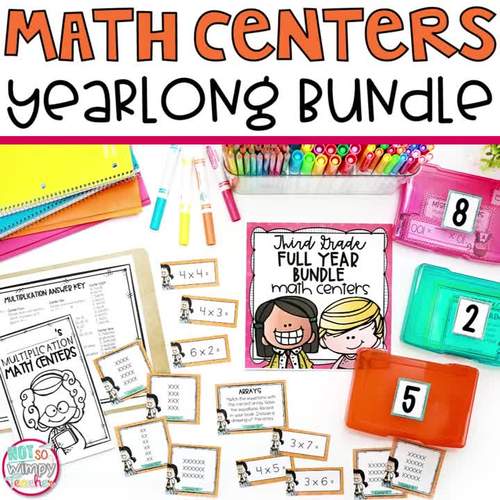 ;
What educators are saying
Wonderful resource! East to use and students are able to work in their own. The instructions, wording and even graphics are on students level. Thanks for a great resource!
I love these centers! There is a bit of prep work but once you have them, you can use them forever! Thank you!
Also included in
This math centers bundle for 3rd grade is honestly a lifesaver. It has everything you need to cover all of the math skills your students need to practice for an entire year. Your students will have so many opportunities to practice their math skills!Maybe you want to prep an entire year's worth of M

Price $40.00

Original Price $49.50

Save $9.50

This bundle includes EVERYTHING you need to teach math workshop in third grade including lesson plans, interactive mini-lessons, student printables, small group activities, assessments, and project-based learning activities, a complete fact fluency program with mixed-fact practice, and 90 done-for-y

Price $225.00

Original Price $304.50

Save $79.50
Description
This product includes 10 engaging math centers to practice third grade place value skills. They are ideal for the beginning of the year 3rd graders and may be suitable for 2nd grade enrichment.
Students have a recording book and rotate through 10 different centers. Centers include constructed response math journalism, task cards and sorts.
**Would you like to learn how I use these math centers? Click HERE to view a free video on how to implement math centers.**
All centers are included in color and black and white!
*********
I also have this resource in a digital version! Click HERE to check it out.
Topics included:
Math journaling
Mystery Number Task Cards
Rounding to the Nearest 10 Sort
Rounding to the Nearest 100 Sort
Rounding Patterns on a 100s Chart
Mentally adding and subtracting 10 and 100.
Expanded Form Task Cards
Value of a Digit
Making the Least ad Great Number with Specified Digits
Write your own word problem
These centers are perfect for an independent math center and will help students to review skills taught. My students work on them when I am meeting with guided math groups. Each center includes simple, student friendly directions. This allows students to be more independent. They could also be used for morning work or fast finishers.
Many students will benefit from the addition of maninpulatives such as base 10 blocks, but they are not required.
Please look at the preview for a sneak peak at some of the centers.
*****************************
Available in this money saving bundle:
Math Center Bundle for Third Grade
You might like some of my other Third Grade Math Centers:
I also have centers for other grade levels!
You might also like:
Report this resource to TPT