Plate Tectonics Science Escape Room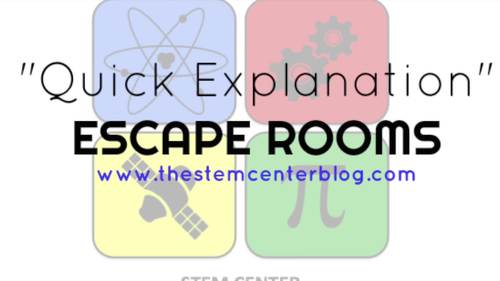 ;
Also included in
This Ultimate Escape Room System Bundle - Break Out Box activity allows your students to have FUN and learn at the same time! We have developed a comprehensive, 3 tiered, ALL SCIENCE "themed", Escape Room, break-out box activity. The Escape Room centers around the fundamental vocabulary and concepts

Price $130.25

Original Price $206.75

Save $76.50

This Earth & Space ESCAPE ROOM BUNDLE allows your students to have fun and learn at the same time! We have developed a comprehensive, 5 tiered, EARTH & SPACE themed, Escape Room. The Escape Room centers around the fundamental vocabulary and concepts found within all your Earth & Space un

Price $86.07

Original Price $106.25

Save $20.18

This Plate Tectonics Escape Room & Plate Tectonics Interactive Notebook is a totally immersive package of activities that will allow your students to have fun and learn at the same time! We have developed a comprehensive, 3 tiered, Plate Tectonics themed, Escape Room & INB. The Escape Room c

Price $8.35

Original Price $13.25

Save $4.90

This is a brand new Plate Tectonics Science Escape Room & Video Explanation is a totally immersive product from the STEM Center that promotes cooperative learning! We have developed a comprehensive 5 tiered, Plate Tectonics themed Escape Room. The Escape Room centers around the fundamental vocab

Price $6.27

Original Price $7.75

Save $1.48

No STEM centered teacher should be without a 5E lesson plan activities bundle.Plate Tectonics = Everything you need to teach a unit on plate boundaries. All of the guesswork has been removed from these activities!What's Included in the 5E Lesson:Engagement:Word WallCard SortExploration:Differentiati

Price $29.14

Original Price $46.25

Save $17.11
Description
This is a brand new Plate Tectonics Science Escape Room totally immersive product from the STEM Center that promotes cooperative learning! We have developed a comprehensive 5 tiered, Plate Tectonics themed Escape Room. The Escape Room centers around the fundamental vocabulary found within a unit focused on Plate Tectonics. We have found a way to make learning FUN!
One of the main reasons many teachers do not use escape rooms is because it takes a long time to develop, and many times even a pre-made lesson is to difficult to implement. Our new "Escape the Homework" lesson is simple to apply within the classroom.
Students are given a 20 word puzzle that will lead to unlocking a lock box that contains their group's 1st set of color coded clues. After each group solves a set of 12 color coded clues, they will gain access to a second team's questions. Upon solving the 12 questions, the students will gain access to a third container of questions. If the students solve all 48 clues before the end of the class period, they will receive a pass on a homework assignment centered around Plate Tectonics.
The escape room can be run several different ways. The cheapest and easiest method is to use manila envelopes for the puzzles (all directions provided).
For a more authentic escape room each group will need the following:
- 5 Lock Boxes (best boxes are inexpensive small tool boxes)
- One five-digit lock
- Four 3-digit locks
Both methods will need the following:
- All printed materials (included)
- Manila envelopes
- The process is explained step by step on our website!
ENTIRE EXPLANATION OF ESCAPE SYSTEM CLICK HERE!
These Escape Rooms for our ER System are ready today:
YOU MAY BE INTERESTED IN:
Connect with the STEM Center©
Be sure to follow my TpT store by clicking on the Green 'Follow Me' Star next to the STEM Center © icon to receive notifications of new products and upcoming sales.
BLOG for more great activities and freebies.
Follow me on Twitter
Great info and freebies on Facebook
See all our products on Pinterest
Copyright © The STEM Center. All rights reserved by author. This product is to be used by the original downloader only. Copying for more than one teacher, classroom, department, school, or school system is prohibited. This product may not be distributed or displayed digitally for public view. Failure to comply is a copyright infringement and a violation of the Digital Millennium Copyright Act (DMCA). Clipart and elements found in this PDF are copyrighted and cannot be extracted and used outside of this file without permission or license. Intended for classroom and personal use ONLY.
Teaching Duration
45 minutes
Report this resource to TPT