Plot Diagram and Story Mountain EDITABLE Story Elements Bulletin Board Set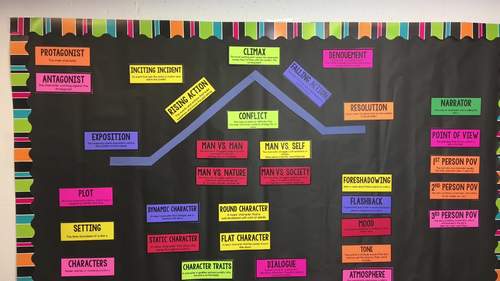 ;
What educators are saying
I have this as a bulletin board in my classroom, it is a great visual for us to use while reading a text.
Absolutely love this resource! Plan to make it interactive by having students put up post-its next to the element we are reviewing. Thank you!
Description
These Plot Diagram and Story Elements Posters allow you to make a Plot Diagram - Story Structure Arc graphic organizer on your classroom wall or bulletin board. Over 40 different literary terms and definitions are included in this pack.
This set comes in 3 different sizes and includes EDITABLE term cards so you can make any terms you need or customize the terms with your own definitions.
Many terms include more than one definition, allowing you to choose the term and definition that suits your class best. If there are literary terms you need for your students, you can edit the poster cards and make what you need for YOUR class and YOUR students! Complete instructions are included. PowerPoint is needed to edit these files.
These cards offer you choices with definitions and terms. For example, choose from Person vs. Person, Character vs. Character, or Man vs. Man. Several terms offer a definition choice also.
The terms come in 3 sizes:
The large size is an 8 1/2 x 11 page folded in half longways.
The medium-sized terms come 4 to a page on a vertical (portrait) layout.
The mini-size includes 12 cards on a page.
These cards/posters can be used as flashcards or to construct a Plot Mountain bulletin board display. The possibilities are endless!
Please look at the PREVIEW to ensure this resource is right for your classroom and students.
- You'll need PowerPoint to edit these cards.
- You'll receive this set in a zip file. Please make sure you can open a zip file before purchasing.
You might like these resources:
Figurative Language Dodecahedron Craft Activity
Figurative Language Spinner Foldable Activity
Writing Prompts Journal For Daily Writing - Year-Long Bundle
Click here to follow my store. You'll be notified about sales and new resources posted at 50% off for the first 24 hours.
Report this resource to TPT