Pocket Chart Centers BUNDLED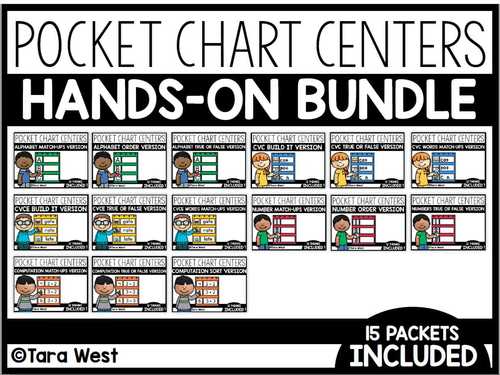 ;
What educators are saying
This is a great resource to use to continue working on a variety of skills. Very fun and engaging. My students love using pocket charts. I love it because it is low prep.
Engaging and easy set up for teachers! Students really enjoy when a new theme is set up but they still understand what to do independently!
Description
Pocket Chart Centers BUNDLED - - fun + engaging pocket chart centers for independent work and/or circle time

Thanks so much for viewing my Pocket Chart Centers BUNDLE! These packets are designed to offer a fun and engaging way to practice alphabet, CVC, CVCE, numbers, and computation skills. You will be able to use these activities as a supplement to your guided reading lesson, guided math lesson, as an independent literacy center option, and/or as an independent math center option. To prep the cards simply print and laminate for best repeated use. I would suggest that you first introduce this packet whole-group and then place into an independent literacy center.

**Please view this very explicit preview video! Click HERE**

What is included?
180 pocket centers (12 centers per packet listed below)
180 "I can" cards
180+ recording sheets
Black/white version included for all centers

What packets are included? (Please click to view additional information.)

What themes are included?
Back to school
Apples
Pumpkins
Bats
Thanksgiving
Trees
Gingerbread
Snowmen
Snowflakes
Valentines
Hearts
Shamrocks
St. Patrick's Day
Rabbits
Raindrops
Flowers
Watermelon
Beach
Ocean
Lemons
Fireworks
What skills are included?
Alphabet: Ordering, Match-Ups, and True/False
CVC Words: Building Words, Match-Ups, and True/False
CVCe Words: Building Words, Match-Ups, and True/False
Numbers: Ordering, Match-Ups, and True/False
Computation: Sorting, Match-Ups, and True/False
Questions?

Please email me at littlemindsatworkllc@gmail.com
Would you like to receive notifications for my newly released packets and upcoming sale? Be sure to FOLLOW ME here on TPT!
**Join my private Facebook Group to join fellow Pre-K, Kindergarten, First Grade and Second Grade teachers that use my curriculum! Collaborate, chat and share ideas with like-minded teachers! Join the private Facebook group H E R E!
Visit my blog Little Minds at Work
Follow me on Facebook
Report this resource to TPT
Standards
to see state-specific standards (only available in the US).
Count to 100 by ones and by tens.
Write numbers from 0 to 20. Represent a number of objects with a written numeral 0-20 (with 0 representing a count of no objects).
Represent addition and subtraction with objects, fingers, mental images, drawings, sounds (e.g., claps), acting out situations, verbal explanations, expressions, or equations.
Fluently add and subtract within 5.
Recognize and name all upper- and lowercase letters of the alphabet.