Poem of the Day | Poetry Bundle - Digital and Printable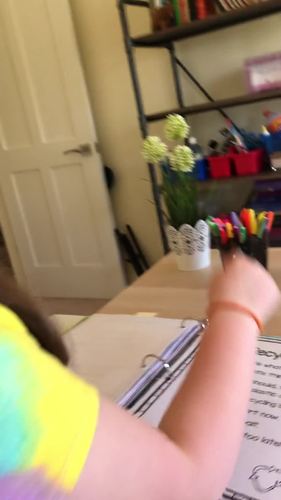 ;
Description
Get your kids excited to learn, build attention spans with familiar rhymes and tunes, and increase engagement with this Poem of the Day bundle!
Easy, short, poems and songs for all seasons and holidays, including graduation, summer themes, and getting to know you for back to school.
The Table of Contents will help you find what you need quickly, and includes links to the poems being read aloud on YouTube. Perfect for shared reading activities.
Perfect for PreK, Kindergarten, First, and Second Grade. Permission is granted to use the poems in google docs and on zoom meetings with your students for distance learning.
In this bundle you will get:
* 116 PRINTABLE poems in one pdf file. No need to download poems individually.
* Table of Contents with links to the poems being read aloud on YouTube.
* Poetry Notebook Cover
* Poetry Notebook Spine Labels for Binders
The poems are organized into categories:

Back to School
All About Me
Riding the Bus
Families
Families with room for a picture
Days of the Week
Hand Washing
Happy Birthday
Colors
Color Song
Red
Orange
Yellow
Green
Blue
Purple
Black
Brown
White
Fall
A is for Apple
10 Little Apples
Leaves
5 Little Pumpkins
I'm a Little Pumpkin
Halloween
Veteran's Day
Scarecrow, Scarecrow
Ted the Turkey
5 Little Turkeys
Funny Bird
Turkey, Turkey
Turkey Dinner
Turkey Handprint
Christmas
Christmas Lights
Gingerbread Man
I'm a Little Reindeer
Ring the Bells
Where is Santa
Christmas Handprint - Everlasting Mistletoe
Five Little Reindeer
Winter and Winter Holidays
Chubby Little Snowman
Great Big Snowman
I'm a Little Snowman
I'm a Snowflake
Snowball
New Year's Here
President's Day
Dr. King
I'm a Little Groundhog
Brushing My Teeth
Valentine's Day
My Valentine
Hearts
Valentine Friendship
I'm a Little Valentine
Valentine Handprint
St. Patrick's Day
Five Little Leprechauns
Happy St. Patrick's Day
I'm a Little Leprechaun
I'm a Little Shamrock
Leprechaun Stew
Spring
Caterpillar Garden
A Little Seed
Five Little Flowers
Spring
Spring is Here
Springtime
Recycle
This Old Earth
Mother's Day
Happy Mother's Day
Mommy
Mother's Day Handprint
Easter
Easter Bunny
5 Little Easter Eggs
Peter Cottontail
Animals
Owls
Gray Squirrel
5 Little Bats
Sleeping Bats
I'm a Little Penguin
My Funny Cat
Ladybug, Ladybug
The Lion and The Unicorn
Winter Animals
Summer
Take Me Out to the Ocean
Summer, Summer
Summertime
Nursery Rhymes
Hey Diddle Diddle
Hickory Dickory Dock
Humpty Dumpty
Itsy Bitsy Spider
Jack and Jill
Little Miss Muffet
One Two Buckle My Shoe
Row Your Boat
The Wheels on the Bus
Twinkle Twinkle Little Star
Baa Baa Black Sheep
A You're Adorable
I'm a Little Teapot
It's Raining, It's Pouring
London Bridge
Little Bo Peep
Mary Had a Little Lamb
Peter Piper
Mary Mary Quite Contrary
One, Two, Three, Four, Five
There was an Old Woman Who Lived in a Shoe
To Market, To Market
Yankee Doodle
End of the Year
ABC Kindergarten Graduation
PreK Graduation Alphabet Rap
Kindergarten Alphabet Rap
First Grade Graduation Alphabet Rap
Pre-K Graduation: We Will Rock You
Kindergarten Graduation: We Will Rock You
First Grade Graduation: We Will Rock You
Second Grade Graduation: We Will Rock You
End of the Year Poem to Students from Teacher
**************************************************************
If you would like to see more pictures and videos, check out my Poem of the Day blog post below:
www.littlelearningcorner.com/poemoftheday
*************************************************************
These poems, if purchased individually, sell for $1.99. This bundle, along with the video links, is over a $230 value!
©2020, Little Learning Corner, LLC
Report this resource to TPT
Standards
to see state-specific standards (only available in the US).
With prompting and support, retell familiar stories, including key details.
Recognize common types of texts (e.g., storybooks, poems).
Retell stories, including key details, and demonstrate understanding of their central message or lesson.
With prompting and support, read prose and poetry of appropriate complexity for grade 1.
Recount stories, including fables and folktales from diverse cultures, and determine their central message, lesson, or moral.