Poetry Activities and Resources - Printable and Digital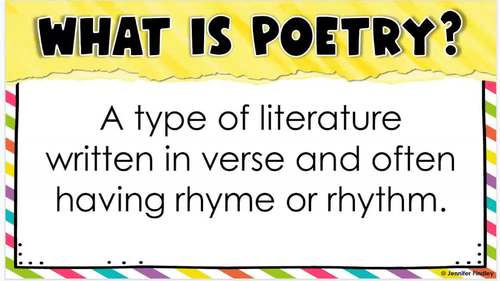 ;
PDF

Google Apps™
Includes Google Apps™
The Teacher-Author indicated this resource includes assets from Google Workspace (e.g. docs, slides, etc.).
What educators are saying
I used these as a review of the poetry unit that we completed. These were great resources to help with the review.
In my curriculum, poetry is a review for 5th so this was great to help students fill in gaps and review key concepts of poetry.
Also included in
Do you teach 4th or 5th grade reading? This reading resource will be a lifesaver! It includes everything you need to supplement your reading instruction for the included reading skills (see below for the skills included).This HUGE reading resource is a bundle of 18 of my reading resources and readin

Price $77.00

Original Price $134.00

Save $57.00
Description
Are you looking for poetry activities to help your students understand and analyze poems? And you need the poems included to save you time and energy? This set of poetry activities and resources is just what you need!
NOTE: This resource now has Google Slides™ versions of most of the poetry activities, making it ideal for digital distance learning and remote teaching! Please see the 3rd page of the PDF for details and the links.
This is a poetry resource to help teach understanding and analyzing poetry and poetry comprehension.
This poetry resources teach the different types of poems and it teach students how to write poetry. Many of the poems in the resource are considered free verse and may or may not include rhyming. Check out the preview to see the types of poems included in this file.
This resource was designed to meet the common core standards that require the students to understand, comprehend, and analyze poetry.
The resource contains poems, printables, and activities to help you introduce, teach, and even assess poetry analysis and comprehension.
Note: Since you will probably not use all of the poems in a year's time, I recommend reading the poems and questions and choosing the ones that best fit the needs of your students and your standards.
Click here to check out my Reading Units Bundle for 4th and 5th Grade that includes this resource and TEN other resources.
I have included many resources for you to use as you teach a poetry unit. I created this with the new common core standards in mind so I hope you will find that it aligns very well with the standards. I wrote this with the 5th grade standards in mind, however this will work well with 4th graders or struggling 6th graders.
1. Teaching Posters
2. Essential Questions for each 5th grade CCSS that addresses poetry.
3. Generic Printables and Graphic Organizers
4. Close Reading of Poetry: Resources to practice close reading strategies for the poems in the unit and other poems.
5. Five poems to teach specific skills (theme, inferring, summarizing)
6. Seven poems with text dependent questions and answer keys
7. Small Group Activities - Five poems with task card style text dependent questions
8. Small Group Activities Two poems with game board style text dependent questions
The digital poetry activities include the exact same content as the printable version but in a digital format.
Here are the digital poetry activities and resources included:
Poetry Posters
Poetry Graphic Organizers
5 Poems to Teach Specific Skills
7 Poems with Mixed Comprehension and Skill Questions
5 Poems with task card-style questions
2 Poems with gameboard style questions
Skills in this resource include:
~determining the theme of a poem
~summarizing poems
~making and supporting inferences
~figurative language
~determining word meaning
~understanding how stanzas support overall structure of a poem
~analyzing the speaker of a poem and how it affects how the poem is written
Want even more small group poetry activities to help your students master poetry comprehension? Click here to see my Poetry Reading Centers.
4th and 5th Grade Reading Review Homework Bundle
4th and 5th Grade Reading Unit Bundle
Reading Interactive Notebook (with TEXTS)
4th Grade Reading Review Booklet
5th Grade Reading Review Booklet
Reading Review Flipbooks: Fiction and Informational
Supports these common core standards:
CCSS.ELA-Literacy.RL.5.1 Quote accurately from a text when explaining what the text says explicitly and when drawing inferences from the text.
CCSS.ELA-Literacy.RL.5.2 Determine a theme of a story, drama, or poem from details in the text, including how characters in a story or drama respond to challenges or how the speaker in a poem reflects upon a topic; summarize the text.
CCSS.ELA-Literacy.RL.5.4 Determine the meaning of words and phrases as they are used in a text, including figurative language such as metaphors and similes.
CCSS.ELA-Literacy.RL.5.5 Explain how a series of chapters, scenes, or stanzas fits together to provide the overall structure of a particular story, drama, or poem.
CCSS.ELA-Literacy.RL.5.6 Describe how a narrator's or speaker's point of view influences how events are described.
Thanks!
Jennifer Findley
Report this resource to TPT