Poetry Digital Escape Room — Robert Frost Poem Analysis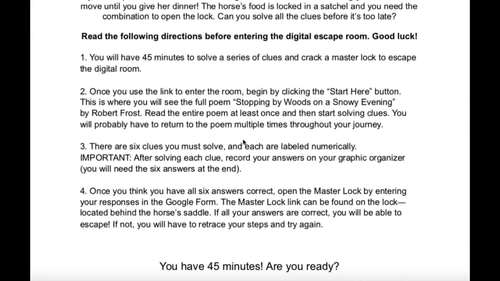 ;
Compatible with Digital Devices
The Teacher-Author has indicated that this resource can be used for device-based learning.
What educators are saying
My students loved using this resource! It was a great review of poetry while also getting them to collaborate and work together!
Also included in
This resource is a FULL POETRY UNIT for ELA grades: 7th, 8th, or 9th! You will get a collection of different lessons, activities, and projects, plus a TDA essay, digital escape room, and final test! I've also included an example schedule for teachers to follow day-by-day!Included in this middle scho

Price $14.99

Original Price $24.90

Save $9.91

This resource is a FULL POETRY UNIT for High School English, Grades 9-12!You will get a collection of various lessons, activities, and projects, plus an awesome digital escape room, and final test! I've also included a schedule for teachers to follow day-by-day! This bundle is so diverse and your st

Price $15.99

Original Price $28.88

Save $12.89
Description
Your students are going to love this Poetry Digital Escape Room! Students will read and analyze the poem "Stopping by Woods on a Snowy Evening" by Robert Frost.
They will solve puzzles in this peaceful scene of snowy woods, glistening mountaintops, and a beautiful, serene frozen lake. In this 360° digital escape room, students will try to escape the woods before the sun goes down! This activity is designed to work for a laptop, tablet, or smart phone.
This game requires reading comprehension strategies, knowledge of poetic devices, and critical thinking skills. Watch the preview video and see exactly what's inside the digital escape room!
Included in this download are teacher instructions, student instructions (digital), the master lock graphic organizer, answer keys, the full text of the poem, and a reflection sheet (optional).
Check out these fun Escape Room Photo Props to make the experience complete!
PLEASE READ: While using this resource, you must have a wi-fi connection and the ability to access the following sites: Google Forms and Kuula.co. Please check that these websites are not blocked by your district's filter before purchasing. Your students do not need to have a Google account.
You May Also Like!
Back to School Digital Escape Room
Teaching Duration
50 minutes
Report this resource to TPT
Standards
to see state-specific standards (only available in the US).
Cite the textual evidence that most strongly supports an analysis of what the text says explicitly as well as inferences drawn from the text.
Determine a theme or central idea of a text and analyze its development over the course of the text, including its relationship to the characters, setting, and plot; provide an objective summary of the text.
Analyze how particular lines of dialogue or incidents in a story or drama propel the action, reveal aspects of a character, or provoke a decision.
Determine the meaning of words and phrases as they are used in a text, including figurative and connotative meanings; analyze the impact of specific word choices on meaning and tone, including analogies or allusions to other texts.
Analyze how differences in the points of view of the characters and the audience or reader (e.g., created through the use of dramatic irony) create such effects as suspense or humor.