Poetry Pretest Middle School Poetry Unit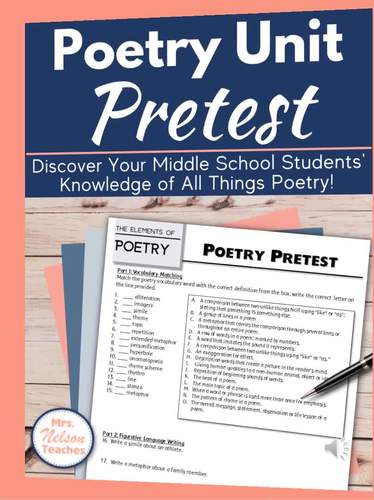 ;
Easel Activity Included
This resource includes a ready-to-use interactive activity students can complete on any device. 
Easel by TPT is free to use!
Learn more
.
Also included in
Why do we often submit our students to long, dull, (dare I say, torturous) poetry units that they hate? Why not make poetry as fun and exciting as it has the potential to be?This unit does just that! Inside this .pdf file, you will find 10 elements of poetry lesson plans and activities plus a pre an

Price $27.00

Original Price $41.49

Save $14.49
Description
Begin your poetry unit by discovering what your middle school students know about the elements of poetry with this No-Prep Poetry Pretest!
I always love to begin a unit knowing where my students are in terms of the content. Gauging what your students know will help guide you (and them) through your poetry unit--especially while distance learning. You'll know what to briefly review, what to reinforce, and what may be brand new for your kids!
I always begin my FUN poetry unit with this pretest. It's quick and simple for you as the teacher—simply print, copy, and go!
:
Alliteration
Imagery
Simile
Theme
Topic
Repetition
Extended Metaphor
Personification
Hyperbole
Onomatopoeia
Thyme Scheme
Rhythm
Line
Stanza
Metaphor
Bonus: Poetry Analysis
Answer Key Included!
Want a fun way to teach all of these poetry concepts?
Want to keep your students engaged while they learn all about poetry?
Check out the FUN Poetry Unit today!
Teaching Duration
30 minutes
Report this resource to TPT
Standards
to see state-specific standards (only available in the US).
Cite textual evidence to support analysis of what the text says explicitly as well as inferences drawn from the text.
Determine a theme or central idea of a text and how it is conveyed through particular details; provide a summary of the text distinct from personal opinions or judgments.
Describe how a particular story's or drama's plot unfolds in a series of episodes as well as how the characters respond or change as the plot moves toward a resolution.
Determine the meaning of words and phrases as they are used in a text, including figurative and connotative meanings; analyze the impact of a specific word choice on meaning and tone.
Analyze how a particular sentence, chapter, scene, or stanza fits into the overall structure of a text and contributes to the development of the theme, setting, or plot.