Point of View Perspective-Taking Creative Writing Prompts - Writing with Voice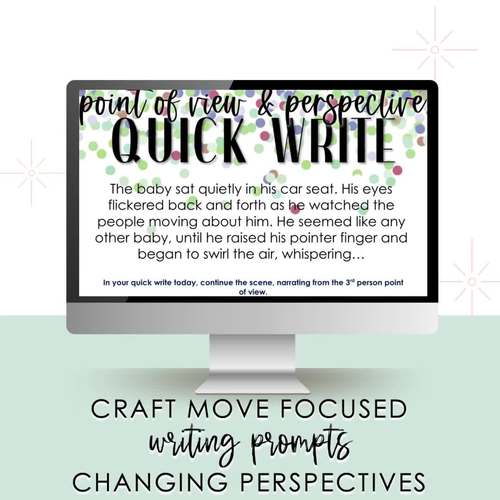 ;
PDF

Google Apps™
Includes Google Apps™
The Teacher-Author indicated this resource includes assets from Google Workspace (e.g. docs, slides, etc.).
Easel Activity Included
This resource includes a ready-to-use interactive activity students can complete on any device. 
Easel by TPT is free to use!
Learn more
.
Also included in
Get access to over 200 Narrative Writing Prompts that will accelerate your middle school students' writing abilities! These ready-to-use daily quick writes focus on various narrative techniques, including dialogue, imagery, perspective, characterization, and more. Check out the PREVIEW to see every

Price $17.99

Original Price $27.93

Save $9.94
Description
Encourage your students to write creatively from different points of view with these engaging writing prompts! Students will enjoy thinking critically as they narrate scenes from various perspectives. With just 5-10 minutes per day, your students will practice writing with voice in response to purposeful sentence starters, mentor texts, and visual writing prompts!
Check out the PREVIEW to see what's included, and download a FREE sample here.
Not only do students LOVE these writing prompts, but the slides are quick and easy to assign or display, making them perfect ELA warm-ups, bell-ringers, or stations!
Here's what you'll get:
Your digital link will come will 30 perspective-taking writing prompts. Students will try writing with voice in a variety of ways, such as:
An old man
A frightened girl
A diary
Death/Life
...and more!
Students will also try writing from 1st person, 2nd person, and 3rd person points of view.
Additionally, there are three different types of prompts included (10 each):
Sentence Starters ("Meet my bad habit...")
Mentor Texts (Example: Rewrite the scene from Peeta's perspective...)
Visual Prompts (Narrate in the 2nd person the perspective of a map...)
Prep is quick and easy... Just display the writing prompts on your projector or SmartBoard and have students write in their notebooks, or assign the writing prompts on a digital learning platform and have students type on the provided slides.
A quick tip for teachers...
Read the prompt, and set the timer for 5-10 minutes. 
Encourage students to keep their pencils moving the entire time.
Don't be afraid to write alongside them!
At the end of the quick write session, invite students to discuss or share their thinking.
In my classroom, we start our daily writing lesson with a quick write prompt! We use a wide variety of prompts throughout the year to spiral review our writing techniques.
»If you'd like to know more about using quick writes in the classroom,read my blog post here.</a>
___________________________________
You may also like…
→
→
→
→
→
→
⭐️ Want to bundle and save? ⭐️
Check out the to get access to this set of writing prompts plus all of the sets listed above for 30% off! 
Have a question?
Please check out the Q & A section or email me at info@heynatayle.com.com. I'll get back to you within 24 hours.
Don't forget to leave me feedback! I love to hear what my buyers have to say, how the product worked for them, and any feedback I can use to improve my product! (It also earns you points towards future TPT Purchases)
✔️ Follow me to be notified when I've posted new products. New products are always 50% off for the first 48 hours!
✔️ Subscribe to my NEWSLETTER for tips, ideas, and activities that make teaching middle school ELA feel engaging and purposeful.
Thanks so much,
Natayle Brown
___________________________________
Copyright © Hey Natayle.
Permission to copy for single classroom use only.
Please purchase additional licenses if you intend to share this product.
Answer Key
Does not apply
Teaching Duration
1 month
Report this resource to TPT
Standards
to see state-specific standards (only available in the US).
Develop the topic with relevant facts, definitions, concrete details, quotations, or other information and examples.
Use precise language and domain-specific vocabulary to inform about or explain the topic.
Write routinely over extended time frames (time for research, reflection, and revision) and shorter time frames (a single sitting or a day or two) for a range of discipline-specific tasks, purposes, and audiences.
Use narrative techniques, such as dialogue, pacing, and description, to develop experiences, events, and/or characters.
Use precise words and phrases, relevant descriptive details, and sensory language to capture the action and convey experiences and events.