Point of View with First and Third Person - Lessons, Anchor Charts, Worksheets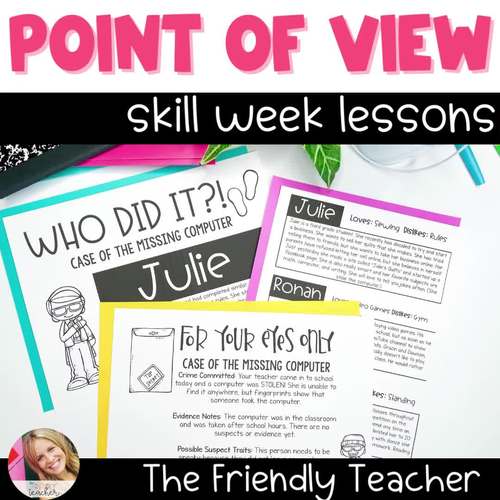 ;
What educators are saying
This was so fun!! I loved that it was engaging enough for my kiddos and LOVED the book! Thanks for making a GREAT resource!!
My students loved these lessons!! The videos are awesome and the first day was so fun, they keep asking me if we can play another mystery game!
Also included in
Do you want your students to fully comprehend all of the reading skills that are taught for reading comprehension? This 17 unit bundle teaches each reading skill completely through engaging and rigorous lesson plans. This bundle includes 17 full-week units with whole group and small group lesson pla

Price $41.75

Original Price $83.25

Save $41.50
Description
Do you need to teach point of view to mastery in whole group and small group? These lesson plans are designed to be low prep for the teacher, but keep your kids engaged and challenged the entire week!
There is a whole group and a small group lesson for each day so that you can differentiate and reach each learner.
All the materials are provided, besides books. All the lessons are engaging, low prep, and rigorous for your upper elementary students.
What can you find in the lessons each day?
A whole group lesson that focuses on an aspect of text structure
A small group activity that can be done during small group time
An enrichment or bonus activity
An intervention tip, idea, or activity
Answer Keys
Assessment
Everything you need to teach the lessons
Why these lessons?
- I saw that my students needed more engagement and relation to their real life in order to understand the skills fully, so I created these lessons to keep kids excited and involved the whole time.
- We start with a real life lesson, then practice as a whole group, work in a small group, work in partners, and finally work alone. We start with support on the skill and slowly take it away to really push the kiddos.
The lessons keep kids thinking the entire time and push them to reach their potential.
- These lessons just need to be printed, copied, and they are ready to go! Most activities require little work beforehand for the teacher which makes a teacher's busy life easier!
The lessons include:
Monday- Whole group introduction lesson called "Who Did It?". Students all become characters and participate in a mystery experience to solve who stole the computer. While they are doing this, they are comparing points of view.
Tuesday- Learn a song, go over an anchor chart, read "The Day the Crayons Quit," and then create a crayon by writing from a different point of view.
Wednesday- Listening to an audio story and discussing point of view. Then, doing a group project where the students read a fractured fairy tale and create a presentation to share with the class.
Thursday- Watch a series of videos to look at point of view. Then, read an original short story, that is provided, with a partner. The students will then change the point of view and rewrite the story.
Friday- Look at different images for point of view, read "Adventures to School"
by Miranda Paul, and create a poster.Then, give the assessment.
There is one small group lesson per day. You can do this with every group or just do the lessons you think the groups need. You differentiate them by what books you choose.
Monday: Play point of view matching and analyze different points of view.
Tuesday: Watch short clips and write them in a point of view.
Wednesday: Look through a stack of books to find point of view.
Thursday: Reread a leveled reader and complete a poster.
Friday: Read a leveled reader and then change the point of view to rewrite the story.
Plus, enrichment and intervention notes daily!
Report this resource to TPT
Standards
to see state-specific standards (only available in the US).
Ask and answer questions to demonstrate understanding of a text, referring explicitly to the text as the basis for the answers.
Distinguish their own point of view from that of the narrator or those of the characters.
Compare and contrast the point of view from which different stories are narrated, including the difference between first- and third-person narrations.