Polar Express Unit for Upper Elementary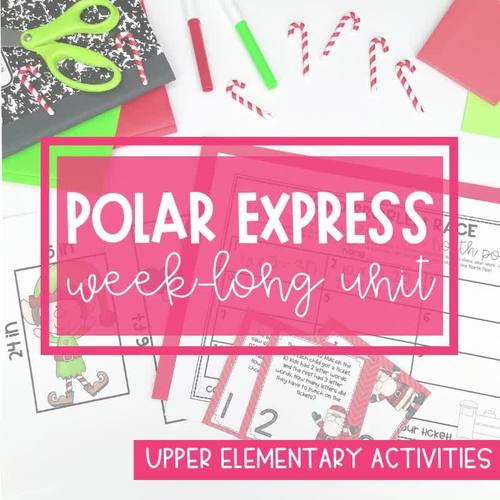 ;
What educators are saying
This really enhanced our school's Polar Express night and brought it into the classroom and got the kids excited.
This unit was so much fun to do before Christmas vacation. My students loved it and were very engaged.
Description
Relate the Polar Express to , , , and in upper elementary! All activities are rigorous, engaging, and upper elementary focused!
You can transform your classroom into the Polar Express or just work on analyzing the text, either way these high level activities will keep your students engaged!
Have your students already read the book in previous grades? GOOD! This shows students how you can take a simple text and analyze it deeply! It is better if they have already read it!
How will this help the teacher and student?
Engagement- Students will be engaged the ENTIRE time you are learning about the Polar Express!
Integrated- All subjects will have lessons relating to the Polar Express. You will teach math, science, social studies, and reading all with the same theme!
Rigor- These activities are higher level and really make your kids think beyond the text!
Low Prep- Almost all activities are print and go!
What's Included?
Included:
All activities have a teacher guide included for extra instruction.
Reading Activities:
Visualization before reading activity
Several Vocabulary Activities with a Vocabulary Quiz
Several Figurative Language Activities
Character Trait Graffiti Wall and Acting Activity
Theme Close Read
Point of View Comparing Activity
Comprehension Quiz
Math Activities:
Word Problem Race to the North Pole
Bar Graphing
Line Plot Bring in a Item Activity
Let's Save Christmas-Multiplication and Division Practice
Area and Perimeter of the North Pole (Create your Own North Pole)
Create Your Own Train using Shapes and Angles
Writing Activities:
Imagery Writing of Christmas Morning
Letter to Santa –Parts of a Paragraph Work
Comparison Essay
Social Studies Activities
Geography of our World
History of Trains Timeline Research
Science
Polar Region Research
Secret Sound Experiment
Bells, Bells, Bells
What are others saying?!
Jenna-Great resource that covers all curriculum areas! It was fun to incorporate a movie into our whole day of learning!
Analisa- This is the perfect resource for 3rd graders! It was a lot of fun for my kids, while also being a complex packet for them too!
Nancy- These activities were great! I like that I can differentiate with them, based on the activities available! Thank you!!
>>>Read more about Polar Express week here!<<<
I loved the theme of the Polar Express, but realized that it was mainly only being used in lower grades. I wanted to use it upper elementary so I could show kids how to dig deeper into and still engage in that love for Christmas and magic that kids have! That is why I created a unit where the students would be engaged, but also learning and practicing higher level skills! I hope your kiddos are as engaged as mine are during this week!
Much Love,
Hannah
The Friendly Teacher
Report this resource to TPT