Poll Questions Group Activity for Speech Therapy No Print Teletherapy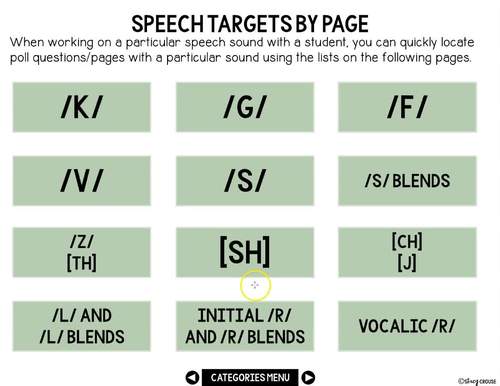 ;
What educators are saying
This is a wonderful resource for my students. They remain highly engaged with this product and I love how many skill areas you can target with it across many grade levels and group types.
A great icebreaker for my older students. I like to use this to spark conversation during group or individual sessions
Description
This is the ULTIMATE GROUP ACTIVITY for speech therapy sessions with OLDER STUDENTS! Using high-interest topics, you'll be able to target any number of language, pragmatic, and articulation goals without having to prep a single thing!
This versatile PDF resource includes over 100 POLL QUESTIONS and appeals to students using...
HIGH-INTEREST and LIGHTHEARTED TOPICS such as food, music, technology, travel, and more
Answer choices with CLICKABLE check boxes for students to cast their votes
REAL PHOTOGRAPHS to provide context for the question and answers
Use this for your MIXED SPEECH & LANGUAGE GROUPS! Word lists for each sound are included so that you can quickly find pages that help you target your student's specific articulation goals.
This EASY-TO-USE DIGITAL ACTIVITY has clickable navigation buttons on each page so you can quickly move between pages and to/from the menu page. It can be used on a computer (using the free Adobe Reader), an iPad, a smartboard, or a teletherapy platform (using screen share).
This activity is extremely versatile in terms of goals that can be addressed, including:
, such as asking follow-up questions, maintaining topic, accepting other's opinions, perspective taking, negotiating, making inferences, and initiating conversation
, such as asking and answering questions, comparing and contrasting, and using past tense verbs
to reading and conversation. There is an index at the beginning of the resource which lists words by target sound and word position and their page numbers so that you can quickly find words to target a specific articulation goal. Perfect for MIXED GROUPS!
This activity would also be great to use as a conversation starter for a social group, to build rapport with new students, or to collect a language sample.
This activity will quickly become a student favorite as it easily stretches across multiple sessions. With its endless opportunities to target a variety of goals, you'll turn to it again and again!
Report this resource to TPT