Pond Life Diorama Project | Fresh Water Animal Habitat Craft | Ponds and Lakes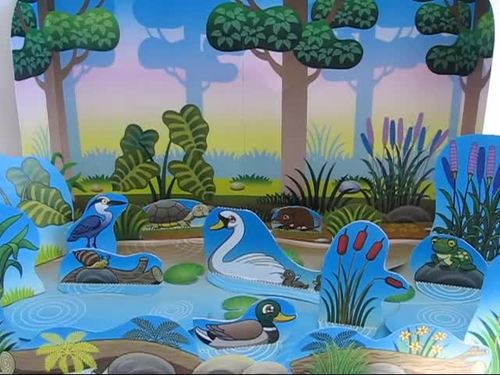 ;
What educators are saying
This has been my favorite TPT product. My students loved coloring and putting the diorama together. This was very helpful for our ecosystem unit.
Also included in
Animal habitat dioramas for kids to make: HUGE BUNDLE of beautiful animal habitat craft activities. More than 200 beautiful paper animal models and templates.Perfect to complement your studies on animal habitats and biomes. 21 beautiful diorama projects for children to make.Children can easily bui

Price $62.48

Original Price $124.95

Save $62.47

Water habitat dioramas for kids to make: HUGE BUNDLE of beautiful paper animal models and habitat craft templates. Bundle includes a huge variety of sea creatures and aquatic animal templates. Includes ocean, wetlands, river, freshwater pond, coastal beach, Arctic region, tide pool / rock pool, an

Price $26.50

Original Price $47.60

Save $21.10
Description
Paper craft pond habitat diorama project. Beautiful fresh water pond animal craft activity for children to make. Includes both a color and a black and white diorama template complete with background, base, scenery and animals.
A swan with her cygnets gently float on the water while the frog sitting on a rock watches. The turtle is exploring the shoreline. Lift the flaps and there's more to see... fish, tadpoles and a snake! This set has a sense of calmness and serenity... a creative relaxation activity!
Kids will go wild for this fun animal habitat activity! Perfect to complement your studies on ponds and lakes and the fresh water animals who live there. Bring learning to life with this hands-on craft activity.
Children can easily build their own habitat diorama by cutting and gluing the pieces. Includes the base and background scene so you can create a stand alone diorama, or paste into a box to create a box diorama. You can also use the scenery to create a centre to use with your own animal toys, playdough or use the paper animals in your sand tray or block corner. Endless possibilities for fun on this colorful pond set!
Includes easy to follow instructions. Simply cut, fold and glue to create your very own animal habitat diorama complete with rocks, plants, logs and animals!
Includes the following pond animals:
- frog
- pond snail
- crayfish
- blue heron
- water shrew
- turtle
- water snake
- duck
- swan with cygnets
- also includes plants, lily pads, cattails, reeds, rocks,and logs.
The paper craft template is provided in a PDF file and is ready to print on US letter size card. For best results, print on card rather than paper.
Habitat scene (base and backdrop): 4 pages
Stand for back of set: 1 page
Plants, cattails, logs and reeds: 3 pages
Freshwater pond animals: 2 pages
© GoWildWithPaper.com
Go WILD with paper have a wide selection of animal crafts, paper models and animal habitat dioramas! Your first stop for fun papercraft animals for kids!
_______________________________________________________
You may also like:
More Animal Habitat Crafts / Diorama Projects
____________________________________________________
Tags: Pond diorama project, paper animal habitat model, papercraft activity, printable craft templates, 3D animal habitat art activity, animals that live in a pond biome, freshwater ecosystem craft, water animal craftivity #GoWildWithPaper
Report this resource to TPT