Popsicle Emotions Language Unit Boom Cards™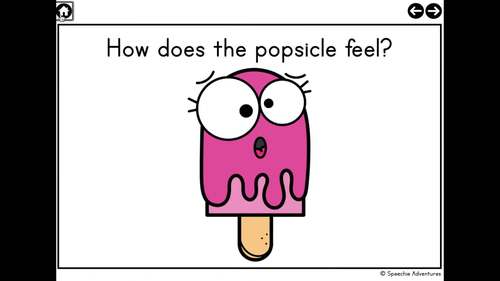 ;
Compatible with Digital Devices
The Teacher-Author has indicated that this resource can be used for device-based learning.
Description
These no-prep Popsicle Emotions Language Unit are a fun and engaging was to target feelings and social-emotional learning in speech and language therapy or within the classroom.
1. Labeling Emotions
e.g. happy, sad, mad, excited, scared, surprised, worried, etc.
2. Labeling Emotions
3. Receptive Language Task
Choosing an emotion from 3 choices
e.g. Which popsicle is frustrated?
4. Build a Face
With sentence strips (e.g. I want, put it on)
Variety of colors and expressions to choose from
5. Synonyms
e.g. happy, cheerful, glad
Choose from 4 choices
6. Pronouns
Given a scenario and asked "How do you think they feel?"
Includes visual sentence strips (e.g. they feel, she feels, he feels)
7. Diversity
Learning about and discussing how people's faces can look different even if they feel the same emotion
**You will receive a PDF with this purchase containing a link for you to access this product on Boom Learning.
ABOUT BOOM CARDS
To use Boom Cards, you must be connected to the Internet. Boom Cards play on modern browsers (Chrome, Safari, Firefox, and Edge). Apps are available for Android, iPads, iPhones, and Kindle Fires. For security and privacy, adults must have a Boom Learning account to use and assign Boom Cards. You will be able to assign the Boom Cards you are buying with "Fast Pins," (play provides instant feedback for self-grading Boom Cards). Fast Play is always a free way for students to engage with Boom Cards decks. For additional assignment options you'll need a premium account. If you are new to Boom Learning, you will be offered a free trial of our premium account. Read here for details: http://bit.ly/BoomTrial.
*************************************************************************************************************
CHECK OUT THESE SIMILAR PRODUCTS
Summer Present Progressive Verbs Boom Cards™
Old Mermaid Who Swallowed a Shark Book Companion Boom Cards™
How to Catch a Mermaid Book Companion Boom Cards™
Summer Language Unit Boom Cards™
CUSTOMER TIP
If you leave feedback on any of my paid products, you can build up FREE TpT credits that may be applied to future purchases. Just submit feedback after using a product by going to "My Purchases" for a list of your purchases. Click on the Leave Feedback button and leave a rating. Then go to your TPT credits to learn how to redeem credits towards your next purchase!

LET'S CONNECT
Follow along for activity ideas, sales, information on giveaways, freebies, & more!
> Follow on TpT
> Facebook
Feel free to reach out with any questions/concerns: speechieadventures@gmail.com
Report this resource to TPT