PowerPoint Trivia Games BUNDLE - Class Party Games - Seasonal - ELA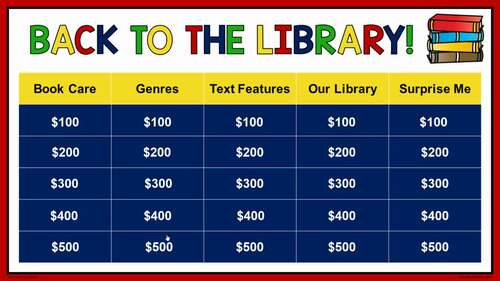 ;
each game has 52 PPT slides; total of 17 games
Products in this Bundle (17)
showing 1-5 of 17 products
Description
This is a huge bundle of my popular PowerPoint Trivia Games for elementary and middle school! These are fun, low- or no-prep, and perfect for class parties and rewards. It includes fairy tale trivia, nursery rhyme trivia, book genres, Greek mythology, 100th Day of School, and more!
- Before purchasing this bundle, to ensure it works with your version of PowerPoint.
While you can technically open this game in other programs (Google Slides, Open Office, Libre Office), I do not recommend it because the trigger animations will not work for game play. That means the dollar amounts do not disappear on the game board when clicked.
Check game compatibility with your version or PowerPoint. Click here to try my Lunar New Year Trivia Game on your computer! This is a Dropbox link. If the Lunar New Year game works for you, then all these games will work for you.
when you buy the bundle, plus get all future PowerPoint Trivia Games for upper-elementary and middle school. Whenever I create a new upper-elementary or middle school game, I will add it to this set.
Each game is also available individually in my store.
Recommended for: Grades K-8 (most are for Grades 3-8)
Formats: PPT and PDF
Editable: Yes, all text is editable.
Is this bundle compatible with Google Slides? (see note below)
Game play duration: 1-2 class periods (~50 minutes for each game)
This game bundle is with Google Slides. The game board dollar amounts do not disappear in Google. This is important to game play.
Open source software (OpenOffice, LibreOffice, etc) - Some users have reported problems with the trigger animations when using this game with open source software. That means the game board dollar amounts might not click, might not go to the right slide, or might not disappear. I do not recommend using open source software for this game.
For best results, your PowerPoint version should be at least 2016 or later. Earlier versions of PPT do not support the feature that allows game board dollar amounts to disappear.
Not sure your version of PPT? You can test the game (link above). If your dollar amounts disappear when you return to the game board, then your PowerPoint version is compatible with this game.
25 questions and answer slides (most are multiple choice questions)
colorful, engaging photos and images on every slide
how to play instructions
editable questions and answers
A few games are labeled for lower grade levels but still work well for middle school (yes, even the Nursery Rhymes game!).
Library Orientation Trivia Game (Grades 3-6)
Nursery Rhymes (Grades K-2, but lots of fun for older students, too!)
Fairy Tales (Grades 2-4, but lots of fun for older students, too!)
Alphabet Trivia (Grades 5-8)
Book Genres (Grades 5-8)
Greek Mythology (Grades 4-7)
Halloween (Grades 5-8)
Thanksgiving (Grades 4-7)
December Holidays (Grades 4-7)
Lunar New Year (4-7)
100th Day of School (Grades 3-6)
Valentine's Day (Grades 3-6)
Presidents Day (Grades 4-7)
Earth Day (Grades 4-7)
Oceans (Grades 3-6)
End of School Year (Grades 5-8)
Celebrating the School Year's Memories (Grades 2-6)
I regularly add new products for school librarians and English teachers to my store. and receive notifications of when new products are posted. All new products are 50% off for the first 48 hours.
Total Pages
each game has 52 PPT slides; total of 17 games
Report this resource to TPT