Preschool Colors Activities & Teachers Guide Bundle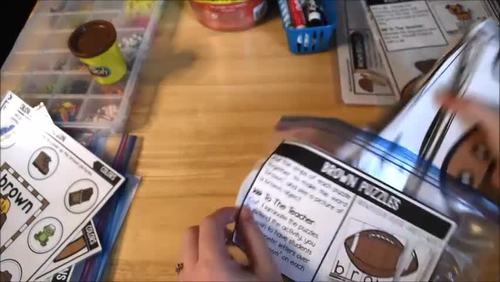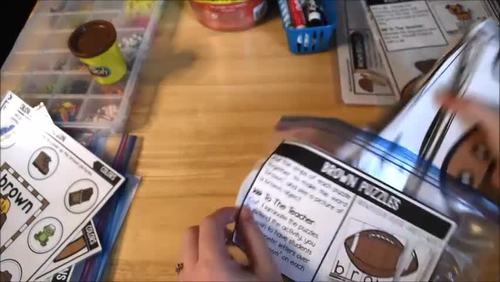 Created By
Fun Hands-on Learning
Products in this Bundle (14)
showing 1-5 of 14 products
Also included in:
Welcome to Hands-On 2 Learn Preschool Curriculum! During early childhood children learn through exploration and play. This curriculum provides a hands-on approach to introducing preschoolers to formal concepts such as alphabet letters/sounds, numbers/counting, colors, shapes, and fine motor skills

$288.25

$145.00

Save $143.25
Bundle Description
This preschool bundle provides a hands-on approach to introducing children to color recognition in uniquely fun ways!
This bundle includes instructional activities, activity centers, and teacher's guides. This bundle is separated into 12 weeks of instruction. The last two weeks are review.
IMPORTANT: This entire pack is included as part of the HANDS-ON 2 LEARN PRESCHOOL CURRICULUM HERE.
What Is Included?
★ Instructional activities: Warm-Ups that introduce students to concepts, and provide practice in memory/fluency.
★ Activity Centers: Hands-on activity centers/games that provide for skill mastery, and content reinforcement.
★ Teacher guides: Weekly guides that help teachers prepare, plan, and instruct.
★ Review Activities: Hands-on review activity centers for the last two weeks.
What Do You Get?
Look at the list below to see what is included. You can click on the weeks to see more.
★Unit 1
★Week 1 - COLOR RED - INCLUDED NOW
- Activity Centers - INCLUDED NOW
- Instructional Activities -INCLUDED NOW
-Teachers Guide - INCLUDED NOW
★Week 2 - COLOR BLUE - INCLUDED NOW
- Activity Centers- INCLUDED NOW
- Instructional Activities - INCLUDED NOW
-Teachers Guide - INCLUDED NOW
★Week 3 - COLOR YELLOW - INCLUDED NOW **ADDED 9/6/18
- Activity Centers- INCLUDED NOW **ADDED 9/6/18
- Instructional Activities - INCLUDED NOW **ADDED 9/6/18
-Teachers Guide - INCLUDED NOW **ADDED 9/6/18
★Week 4 - COLOR GREEN - INCLUDED NOW **ADDED 10/17/18
- Activity Centers- INCLUDED NOW **ADDED 10/17/18
- Instructional Activities - INCLUDED NOW **ADDED 10/17/18
-Teachers Guide - INCLUDED NOW **ADDED 10/17/18
★Unit 2
★Week 5 - COLOR ORANGE -INCLUDED NOW **ADDED 12/28/18
- Activity Centers- INCLUDED NOW **ADDED 12/28/18
- Instructional Activities - INCLUDED NOW **ADDED 12/28/18
-Teachers Guide - INCLUDED NOW **ADDED 12/28/18
★Week 6 - COLOR BROWN -INCLUDED NOW **ADDED 3/8/19
- Activity Centers- INCLUDED NOW **ADDED 3/8/19
- Instructional Activities - INCLUDED NOW **ADDED 3/8/19
-Teachers Guide - INCLUDED NOW **ADDED 3/8/19
★Week 7 - COLOR PINK -INCLUDED NOW **ADDED 5/26/19
- Activity Centers- INCLUDED NOW **ADDED 5/26/19
- Instructional Activities - INCLUDED NOW **ADDED 5/26/19
-Teachers Guide - INCLUDED NOW **ADDED 5/26/19
★Week 8 - COLOR PURPLE - INCLUDED NOW **ADDED 6/30/19
- Activity Centers- INCLUDED NOW **ADDED 6/30/19
- Instructional Activities - INCLUDED NOW **ADDED 6/30/19
-Teachers Guide - INCLUDED NOW **ADDED 6/30/19
★Unit 3
★Week 9 - COLOR BLACK - INCLUDED NOW **ADDED 7/6/19
- Activity Centers- INCLUDED NOW **ADDED 7/6/19
- Instructional Activities - INCLUDED NOW **ADDED 7/6/19
-Teachers Guide - INCLUDED NOW **ADDED 7/6/19
★Week 10 -COLOR WHITE - INCLUDED NOW **ADDED 7/9/19
- Activity Centers- INCLUDED NOW **ADDED 7/9/19
- Instructional Activities - INCLUDED NOW **ADDED 7/9/19
-Teachers Guide - INCLUDED NOW **ADDED 7/9/19
★Week 11 - REVIEW - INCLUDED NOW **ADDED 7/22/19
- Review Activity- Color Recognition - INCLUDED NOW **ADDED 7/22/19
★Week 12 - REVIEW - INCLUDED NOW **ADDED 7/25/19
- Review Activity- Color Spin & Cover - INCLUDED NOW **ADDED 7/22/19
Report this Resource to TpT