Preschool Curriculum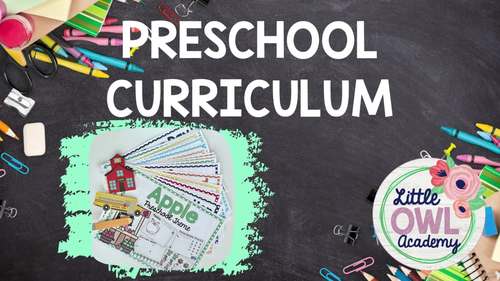 ;
What educators are saying
This is an amazing curriculum. I will continue to use this year after year and add small additional resources to keep it fresh. Great bundle!
Products in this Bundle (39)
showing 1-5 of 39 products
Description
Preschool Curriculum: September-May
Are you looking for an entire school year worth of Preschool Curriculum, ready to use, no prep, themed, and age appropriate? Are you looking for the best preschool curriculum to give you ideas, standards based material, and a variety of themes? Are you looking for a preschool curriculum that can help your children learn all they need to know by the end of preschool to prepare them for kindergarten? Then look no further!
This HUGE bundle contains everything you need to teach or homeschool your preschool age student. It includes 34 themes plus alphabet practice, numbers 1-20 practice, and tracing and cutting through the year. It's full of preschool worksheets, songs, and ideas.
Each weekly theme has 12 black and white and 12 color pages, as well as an original song and book ideas.
The standards covered in this curriculum are:
Colors
Numbers 1-20
Shapes
Patterns
Spell and write name
Count backwards
Recognize uppercase and lowercase letter names and sounds
Learn phone number
Identify big and small, tall and short
Follow directions
Cutting
Up and Down
Left and right
Rhyming
Telling stories
Difference between letters, words, and numbers
Sight words
Labeling pictures
Vowels and consonants
Graphs
Opposites
Identifying
and More!
This also includes a bonus file "Year at a Glance" printable page to show you the suggested order for the curriculum to be taught as well as giving some teaching ideas.
You can find the specifics for each individual packet by clicking on the previews below. The individual packets included are:
Tracing and cutting through the year
Numbest 1-20 practice
Alphabet practice
On the Farm theme
Apple theme
Transportation theme
Back to School theme
Spiders theme
Monster theme
Pumpkins theme
Halloween theme
Dinosaurs theme
Thanksgiving theme
Friends theme
Leaves theme
Christmas theme
Elves theme
Gingerbread theme
Teddy Bear theme
Winter theme
New Year theme
Martin Luther King Jr. theme
President's Day and American Symbols theme
Groundhog Day theme
Teeth theme
Valentine's Day theme
Spring theme
Read Across America theme
Ocean theme
St. Patrick's Day theme
Weather theme
Gardening theme
Easter theme
Zoo theme
Insects and Bugs theme
Sports theme
Cinco De Mayo theme
End of year memory book
If you have any questions about this curriculum, please email me at littleowlacademyresources@gmail.com and I am happy to help!
Thank you for supporting Little Owl Academy!
Answer Key
Does not apply
Report this resource to TPT