Preschool Social Skills Story and Activity I CAN LISTEN | Social Emotional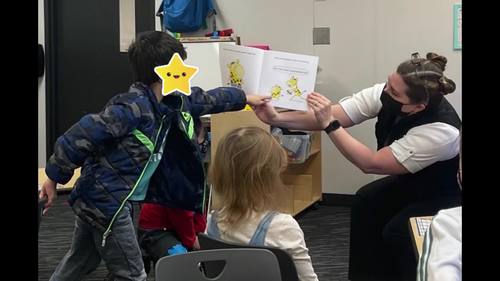 ;
PDF

Google Apps™
40+ page PDF plus digital links
Includes Google Apps™
The Teacher-Author indicated this resource includes assets from Google Workspace (e.g. docs, slides, etc.).
Easel Activity Included
This resource includes a ready-to-use interactive activity students can complete on any device. 
Easel by TPT is free to use!
Learn more
.
What educators are saying
My students love the "your turn" part of the slide show. Gives them a chance to practice what they've learned and gives me a chance to assess their learning immediately.
Also included in
Looking for quick social emotional learning activities for preschool or special education students? Need social skills stories for morning meeting or preschool circle time? Are you doing social groups but need the simplest of content for your special education or speech students? Each of the 30 SEL

Price $46.00

Original Price $92.00

Save $46.00

♥Looking for a simple preschool yearly curriculum for your preschool, pre-K, transitional kindergarten, or young special education students? These activities help support a preschool yearly plan and are perfect for students with supportive needs or as a preschool curriculum for 3-year-olds as it is

Price $67.00

Original Price $133.92

Save $66.92

❤️ Looking for social emotional learning activities or social skills stories on classroom rules and expectations? Great for back-to-school prep! This bundle of social narratives and social skills activities are great for preschool circle time or social group for students with autism who respond to so

Price $19.50

Original Price $32.48

Save $12.98
Description
❤️ Looking for preschool social emotional learning activities or social skills stories and social narratives on listening? Working with preschool or special education students on social skills about Whole Body Listening? This is one of many early childhood, toddler, or preschool level social emotional activities that combine digital and print SEL stories plus interactive activities. Check the ABA in School store for many other stories!
to see the Boom playable preview
❤️ This is I Can Listen. A 13-slide social narrative about whole body listening and then the last 8 slides include scenarios to practice being a good listener such as "Help Matt listen by moving his body to the group." Includes a full-size story to print in color, a short coloring sheet for class and a take-home coloring book that has the lesson in it, as well.
❗BONUS! There is an additional full lesson plan on Listening that uses children's storybooks to learn about listening skills. Includes list of materials, lesson plan, visuals, and printable activity. 
⭐IMPORTANT: This is part of a bundle of short Social Emotional Learning Activities that can be found.
Resource includes PDF with:
► Redeem link to Boom™ self-correcting digital task cards (account required)
Boom Playable Preview
► Similar activity for Google™ Slides and Easel™ plus YouTube™ link
► Full-size story in color
► Small coloring book that can be printed and sent home as extension activity
► 4-page Paper extension activity
► BONUS Additional full lesson plan with 2-pg lesson plan and 8-pg print activities
This resource is great for:
ABA
Special Education
Autism/other disabilities
Toddler, Preschool, Kindergarten
♥♥♥ Earn TpT credit by leaving me a review on your MY PURCHASES page. For every dollar you spend, you will earn one credit that can be applied toward any of your future purchases. Every 20 credits earned equals $1.00. It's worth the extra minute! (and always appreciated)
Please contact me via EMAIL ✉ if you have a question about this resource or experience a problem. You can also use the ASK A QUESTION tab on my TpT page or the Q & A tab before leaving your review. I will respond as soon as possible.
If you FOLLOW ME HERE, you will see my new products in TpT's emails that feature your favorite teacher-authors.
Subscribe HERE to my newsletter and be the first to know about new products, freebies, blog posts, and sales.
♦ EMAIL me at abainschool@gmail.com
♦ Web ♦ PINTEREST ♦ FACEBOOK ♦ Instagram
Copyright © 2021 ABA in School. All Rights Reserved.
The purchase of this resource gives the buyer permission to download and copy for single classroom or family use only. Electronic distribution is also limited to single use. Copying for other parents, teachers, school-wide use, or for school systems is only allowed with the purchase of additional licenses. These can be added to your account under "My Purchases" at a discounted price. Thank you for respecting my work.
Total Pages
40+ page PDF plus digital links
Teaching Duration
30 minutes
Report this resource to TPT