Preschool Spanish Curriculum - Growing Bundle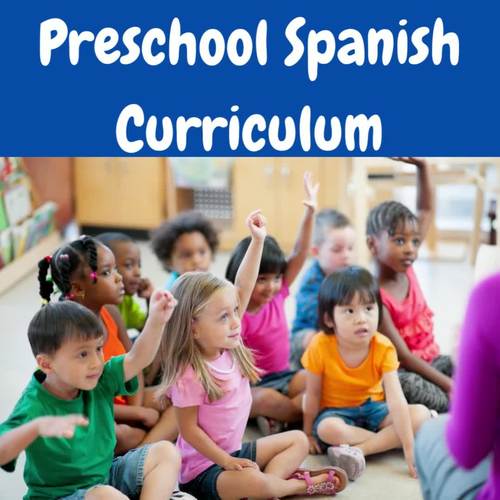 ;
What educators are saying
I use this to teach my preschool children at the center where I work Spanish. The curriculum is very in-depth. and has everything organized very neatly.
Enjoyed so much this activity with my students. Muchas gracias por facilitar este curriculo. This helps a lot to be more organized when it comes to preparing my curriculum for next year. Thank you!
Description
This GROWING BUNDLE includes materials that are made for an ongoing Preschool Spanish Class. This Pre-escolar class takes place once a week for 30 minutes for students aged 3-6. Each lesson includes the lesson plan, parent letter, and all created materials / worksheets for the class plus additional tips and lists of the items and materials needed for the lessons. Throughout the year, we will be adding new lessons and materials to add to your class!
This curriculum includes the PDF files along with the EDITABLE preschool Spanish files to make them work for you in your classroom. Currently included are vocabulary lists, games, songs, crafts, activities to do at home to practice the lessons, an extensive list of videos that can be used with students, photos of the activities in action, brag tags, lesson plans, email letters to parents, and much more! This is a no-prep must-have for all early elementary Spanish teachers!
How does a GROWING bundle work?
Purchasing a growing bundle means that you are "pre-ordering" some items at a discount before they are released.
In order to get the additional materials:
• Log into TpT
• Go to "My TpT" -> "My Purchases"
• Choose: Sort by > Recently Revised; find product
• Click "download now" to download the product again. The new materials will be in the zipped file. We will be updating the bundle throughout the school year as new materials are created!
This bundle currently includes materials that teach the following themes:
~ Class One –
Hola / Me llamo / Classroom Commands / Numbers 1-10
~ Class Two –
Hola / Me llamo / Mucho gusto / Numbers 1-10 / Rojo / Azul / Classroom Commands / Fall Tree Poem
~ Class Three –
Good morning song / ¿Cómo estás? / Muy bien. / Gracias / ¿Y usted? / Verde / Amarillo
~ Class Four –
Anaranjado / Violeta / Body parts – ojos, nariz, boca, cabeza, brazo, pierna, pie, mano, codo
~ Class Five –
Blanco, negro / review of body parts / the Itsy Bitsy Spider
~ Class Six -
Color Review / Body Parts Review / Farm Animals - vaca, caballo, oveja, cerdo, pato, gallina, pollito, cabra
~ Class Seven -
Color, Body and Farm Animal Review / Thanksgiving activity
~ Class Eight -
Seasons / Color Review
~ Class Nine -
Seasons and Number Review / Weather
~ Class Ten -
Seasons and Weather Review / Christmas Vocabulary
~ Class 11 -
Days of the Week, The Very Hungry Caterpillar
~ Class 12 -
Alphabet Song, Days of the Week, Food Introduction
~ Class 13 -
Where are foods from?, Alphabet, Fruits
~ Class 14 -
Chica Chica Bum Bum, Alphabet, Shapes
~ Class 15 -
Body Parts Dance, Shapes, Shape Hunt, Shape Book
~ Class 16 -
Valentine's Day
~ Class 17 -
Valentine's Day
~ Class 18 -
Primavera, flores, Me gusta, No me gusta
~ Class 19 -
Flores, clothing
~ Class 20 -
St. Patrick's Day
~ Class 21 -
Transportation
~ Class 22 -
Easter
~ Class 23 -
Family
~ Class 24 -
Cinco de mayo
~ Class 25 -
Mother's Day
*These are some newly added activities:
Passport activities, monster body parts activities, the Three Little Pigs activities, an activity to do for Three Kings' Day, a yellow and green activity, Valentine's Day heart activity with numbers, a first day of school selfie, a snowflake counting activity and a "Sana Sana Colita de Rana" song!
Teachers Like You Are Saying:
*⭐⭐⭐⭐⭐ This is just what I was looking for to teach Spanish to my little ones. The weekly themes and lesson plans are easy to follow. It saved me a lot of time.
*⭐⭐⭐⭐⭐ I am using this to plan my preschool class for next year and at home with my daughter! It is amazing! Thank you so much for such a wonderful resource!
*⭐⭐⭐⭐⭐Excellent complete curriculum for the youngest learners. Loved the ideas and activities, and so did my students!
See all of our most popular and best seller games!
Let's connect! We would love to hear from you!
Have a great school year!
Answer Key
Does not apply
Report this resource to TPT