Presidential Election Process Texts & Activities: Electoral College, Primaries+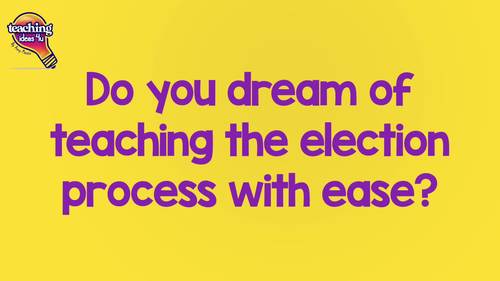 ;
PDF

Google Apps™
Includes Google Apps™
The Teacher-Author indicated this resource includes assets from Google Workspace (e.g. docs, slides, etc.).
What educators are saying
Amazing resource to use in class to go with topic. easy to follow and understand for students and teacher.
An excellent resource to use during our voting unit. We used it remotely and it was absolutely amazing. Thank you so much!
Description
Presidential Election Process: Becoming the President Texts & Activities
This civics unit teaches students the presidential election process, focusing on the Electoral College, Caucuses and Primaries, and Inauguration Day. Each text includes reading comprehension questions.
The questions come in both PDF and Google Slides formats.
Passages discussing the arguments for and against the Electoral College are included. Teachers can use them in various ways, including a persuasive essay or as a basis for debate.
Excerpts from Kennedy's and Reagan's First Inaugural Addresses are also included with higher level comprehension questions. They are a great way to integrate Common Core Reading skills for social studies! Teachers can use these passages to have students compare the written text with a video recording of the speeches. Teachers could also have students compare and contrast the Inaugural Addresses.
To review the election process, students complete a timeline of events. Teachers could use this activity as a formative assessment.
Texts and activities included in this product are:
Understanding the Electoral College
Debating the Electoral College: For and Against
Comparing Caucuses and Primaries
Inauguration Day
Analyzing the Oath of Office
Kennedy's Inaugural Address
Reagan's First Inaugural Address
The Road to the White House Timeline
Answer Key
Texts are written on approximately a 6th - 7th grade reading level.
Please see the preview to look at the texts.
Do you teach civics? You may be interested in my Civics and American History Interactive Notebook.
*****************************************************************************
Customer Tips:
How to get TPT credit to use on future purchases:
• Please go to your My Purchases page (you may need to login). Beside each purchase you'll see a Provide Feedback button. Simply click it and you will be taken to a page where you can give a quick rating and leave a short comment for the product. Each time you give feedback, TPT gives you feedback credits that you use to lower the cost of your future purchases. I value your feedback greatly as it helps me determine which products are most valuable for your classroom so I can create more for you. ☺
Be the first to know about my new discounts, freebies and product launches:
• Look for the green star next to my store logo and click it to become a follower. Voila! You will now receive email updates about this store. ☺
*********************************************************************
Teaching Duration
2 Weeks
Report this resource to TPT
Standards
to see state-specific standards (only available in the US).
Compare and contrast a text to an audio, video, or multimedia version of the text, analyzing each medium's portrayal of the subject (e.g., how the delivery of a speech affects the impact of the words).
Cite specific textual evidence to support analysis of primary and secondary sources.
Determine the central ideas or information of a primary or secondary source; provide an accurate summary of the source distinct from prior knowledge or opinions.
Determine the meaning of words and phrases as they are used in a text, including vocabulary specific to domains related to history/social studies.
Describe how a text presents information (e.g., sequentially, comparatively, causally).