Presidents Day Activity Tab Book BUNDLE - Coloring & Writing PreK - 3rd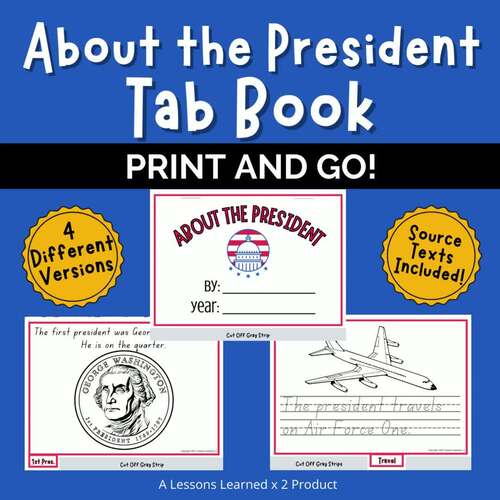 ;
Products in this Bundle (2)
Description
Are your students curious about President's Day? This engaging President's Day activity for Preschool - 3rd graders will teach students basic information about the U.S. Presidents! This tab book bundle contains differentiated coloring, tracing, and writing "About the President" tab books.  This easy to make President's Day activity includes color and black and white options. Perfect for a variety of ages and abilities! 

This President's Day activity contains:
Teacher Notes
Color and Black & White Versions included
8 Cover Options
6 page "All About the President" tab book including the following pages:
        Page 1 - The First President,
        Page 2 - Where the Presidents Lives
        Page 3 - Current President Information
        Page 4- How the President Travels
        Page 5 - How Long A President Serves
        Page 6 - What Would You Do as President
Preschool-Kindergarten "All About The President" Tab Books Included:
A Coloring Book Version with basic informational sentences
A Traceable Version with basic informational sentences
"About the President" information page
1st, 2nd, & 3rd Grade "All About the President" Tab Books Included:
A Question and Answer Version with handwriting lines a single sentence response
A Question and Answer Version with plain lines for a few sentence responses
A Short Response Version with lines for a multi-sentence or short paragraph response
3 Levels of Source Text - allow students to practice reading and locating facts to complete a written response. 
Easy Passage-provides basic information for the answering question version
Medium Passage-provides answers with a few extra details; can be used with any version you choose
Challenging Passage-longer and provides more detailed information for students to read and evaluate what information to include in their responses. Better suited for the question and answer or the basic research version.
Teach basic research skills by combining a source text with a tab book version that includes writing.
Teacher Tip! This project is perfect to include in your Elections, Inauguration Day, or President's Day units.
Looking for just the Preschool - Kindergarten or 2nd-3rd grade President Tab Book? 
✅Presidents Day Activity Tab Book - Preschool & Kindergarten
✅Presidents Day Activity Tab Book - 2nd grade & 3rd grade
Need a Presidents Day Project for older elementary students?
✅President Research Project - Flip Book Activity

__________________________________________________________________
Thank you for your interest in Lessons Learned x2 resources!
❤️ Follow our store, and you will receive freebies, product updates, and new releases!
❤️Also, please take a moment to leave a review; not only do we love hearing feedback from our customers, but you will also get TPT credit to use on future purchases!
❤️Follow Lessons Learned x 2 for more resources and encouragement!
__________________________________________________________________
Terms of Use
Copyright © Lessons Learned x 2. All rights reserved by authors. This product is to be used by the original downloader only. Copying for more than one teacher, classroom, department, school, or school system is prohibited. This product may not be distributed or displayed digitally for public view. Failure to comply is a copyright infringement and a violation of the Digital Millennium Copyright Act (DMCA). Clipart and elements found in this PDF are copyrighted and cannot be extracted and used outside of this file without permission or license. Intended for classroom and personal use ONLY.
Report this resource to TPT