Pretend School Dramatic Play Center | Imaginative Play Printables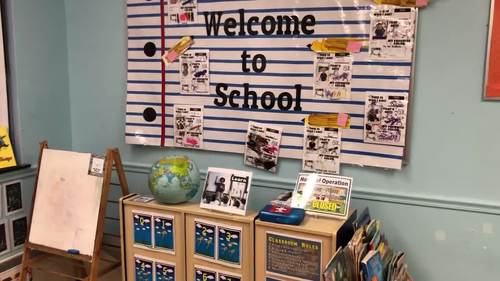 ;
Also included in
Looking for some fun ways to encourage learning through play? You've come to the right place. Pre-K Let's Play has created a bundle for fun dramatic play centers that help encourage, inspire, and raise your students' level of imagination. These dramatic play themes are filled with a variety of fun p

Price $20.00

Original Price $24.00

Save $4.00
Description
Back to School! Class is in session and let the fun begin!!! Pre-K Let's Play has created a fun Pretend School dramatic play Theme that helps encourage, inspire, and raise your students' level of imagination. It is filled with a variety of fun ideas, instructions, and pictures of how to set up your potential pretend school area and play.
This download includes:
A suggested list of props and materials
Pics of center Setup ( classroom decor on how to set up your pretend play area)
How to create a chalkboard
Bulletin board display (how to make a creative "welcome to school" bulletin board)
Pretend school dramatic play in action (pictures of ideas on how to play in your dramatic play area)
Labels with and without words
Role necklaces (student boy, student girl, male teacher, female teacher)  
Signs (Open/Closed, Hours of Operation, School Rules, Alphabet wall cards, Number Cards, Shape cards, Color chart, Weather chart, clock, blank name cards, first aid )
Picture Cards highlighting activities to do in Pretend School Dramatic Play
Writing worksheet printables (Attendance, Report Card, Homework, Who I Am" worksheet  and animal patient information for cat, dog, bird, turtle, and hamster)
Craft ideas (pencil craft, "In School We…")
This creative pretend school dramatic play theme is best used to help your students:
Use their imagination freely
with language development
learn and practice their social interaction skills
Practice communication skills
Practice using and understanding symbols
Practice math skills
Practice literacy skills
Develop their fine motor skills
Other resources you may enjoy:
This structured play resource was created primarily for Preschool, Pre-K, Kindergarten classrooms, and Homeschool. And the best part for your students is that..... it doesn't feel like learning.
Pre-K Let's Play has many more educational play resources like this and others to choose from. For future updates and more resources like this, please click here to follow my store.
Your feedback is also very much appreciated. It always feels amazing to hear how you used this product in your classroom. I would love to hear from you. Take care and leave a review. Enjoy!
Report this resource to TPT