Preterite vs Imperfect Task Cards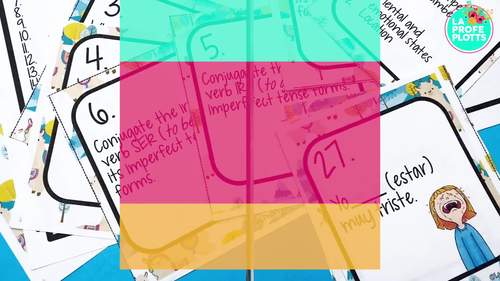 ;
What educators are saying
I love using task cards in class because they allow students to answer a wide variety of questions using the topic at hand!
The task cards are a great way to get the students up, moving, talking to each other about grammar, and thinking in general. Love to use these when I am getting observed.
Also included in
This bundle includes all five of my preterite and imperfect 48-card sets at a savings of 20%! That's 240 cards total! These sets are ready to print, cut, and use. These task card sets each have 48 different cards to get your students up and moving while practicing the preterite tense, the imperfect

Price $20.00

Original Price $25.00

Save $5.00

Are your students struggling with the preterite tense, the imperfect tense, and the differences between them? They will get a TON of great practice with this bundle! This Spanish preterite and imperfect tenses bundle includes 27 of my preterite and imperfect tense resources at a savings of 20% vs. i

Price $81.25

Original Price $101.50

Save $20.25

Provide your students with the practice they need to master Spanish grammar and Spanish vocabulary concepts with this Spanish task cards bundle! This bundle includes 50 sets of Spanish task cards. Each set includes 48 task cards to get your students up and moving. The task cards in this bundle co

Price $179.75

Original Price $239.75

Save $60.00

If you teach Spanish 2, you NEED this Spanish 2 mega bundle of 99 engaging and fun activities! In it, you will find the following:20 task card sets20 digital task card decks (Boom Cards) 4 conversation card sets 15 super fun Jeopardy-style trivia games 16 Cucharas (Spoons) games 7 Pesca (Go Fish) ga

Price $296.50

Original Price $395.50

Save $99.00

If you teach Spanish 1 and 2, then this is the bundle for you! Fun and engaging Spanish grammar and Spanish vocabulary practice to last you the entire year. This huge bundle covers all of the skills and concepts traditionally found in Spanish 1 and Spanish 2 curriculums.This Spanish 1 & 2 bundl

Price $599.99

Original Price $942.25

Save $342.26

Are you looking for a fun variety of Spanish resources for preterite vs. imperfect that you can use in your classes? If so, this discounted bundle is just what you need! Students will be engaged and get a great review of preterite vs imperfect with these 13 easy-to-use resources for learning Spanish

Price $41.25

Original Price $51.50

Save $10.25
Description
This Spanish preterite vs. imperfect task card set has 48 cards to get your students up and moving while practicing the preterite tense, the imperfect tense, and when to use each of them. More than just fill-in-the-blank cards, students will be engaged as they complete various tasks on the included response sheet like conjugating verbs in both tenses, filling in the blank with the correct preterite or imperfect form of the verb in parentheses based on their understanding of the situation, writing sentences from prompts given, answering multiple-choice questions, rewriting grammatically-incorrect sentences correctly, and stating whether examples (weather, age, etc.) use preterite or imperfect.
⭐️ Save 20% on these task cards and all my other preterite vs imperfect resources with the Preterite vs Imperfect Activities Bundle! Click HERE to see it.
Check out the thumbnails and preview for a sampling of cards/materials included with this set.
This is a printable resource. (If you want the digital Boom Card version, click HERE.)
Included:
• Student response sheet
• 48 full-color task cards
• 6 blank full-color cards
• 48 task cards in an ink-friendly version with a plain white background
• 6 ink-friendly blank cards
• Answer key
• 15 ways to use task cards in Spanish class
Preterite vs. Imperfect Task Cards can be used in many different ways!
• Cut up and distribute around the classroom (hang up on walls, scatter on desks, even hide for some extra fun). Have students go around with a sheet and answer any 30 (or whatever number you want to give them). Make for a great review before a test!
• For advanced learning or to differentiate, when students get to the fill-in-the-blank sentences, they need to write the missing verb AND why the preterite or imperfect is used with that past tense example (weather, telling time, single completed action, etc.).
• Use in conjunction with other activities during stations.
• If you have a document camera, you could show students a card and have them write answers on mini whiteboards and hold up, either individually or as a team.
• Extra five minutes left in class you hadn't planned on? Task cards always save the day! Pull out the task card set and use it for a quick game, formative assessment, or rapid-fire quiz for candy.
The possibilities are endless! 15 ideas are included!!
OTHER RESOURCES YOU MIGHT BE INTERESTED IN:
Preterite vs. Imperfect Sub Plans
Preterite vs. Imperfect Digital Mystery Picture - Flamenco Dancer
Preterite vs. Imperfect Digital Task Cards for Google Slides
Preterite vs. Imperfect Google Forms Assessment
Preterite vs. Imperfect Digital Boom Cards
Preterite vs. Imperfect Reading Comprehension Digital Mystery Picture
Preterite vs. Imperfect Jeopardy-style Trivia Game
Preterite vs. Imperfect Conversation Cards
Preterite vs. Imperfect Cucharas (Spoons) Game
Preterite vs. Imperfect Digital Escape Room
These task cards are included in my money-saving Spanish 2 Activities Mega Bundle. Save 25% on 80+ engaging games and activities when you buy the bundle! Click HERE to check it out!
Click HERE to see the other 60+ task card sets in my store!
Here are some things teachers have said about my task cards:
J.G.- I just did this activity for the first time on Thursday and I am so happy with the way it was received by the students! I allowed the students to use their notes if they wanted to, and only asked them to answer 30 out of the 48 questions in order to cut down on congestion in the room, (which is a constant issue with 32 students!) The students were engaged the entire time. I will definitely be back for some of the other tense cards!
T.H.- I absolutely LOVE your task cards! So many uses!!! Thank you!!!!
K.G.- Thanks so much for these cards! I bought them, made them and used them in class today already and it was a huge success. The kids loved the different style of working.
S.M.- Excellent resource as always! I know your task cards are always a favorite in my classroom!
M.N- I used this on a "stations day" with my students. They (and I) found it to be a very thorough review!
L.D.- My students have done this activity several times and they LOVE IT! I love seeing them having fun trying to get the answers fast and helping each other. Thank you!!!
K.L. This was the best way to review Spanish material. It was such a lifesaver. Thanks!
Want FREE SER + adjectives task cards? Grab them HERE.
Did you know you can follow my store and receive notifications when new resources are posted or I'm having a sale? I have lots of engaging resources in the works and most new resources (like these task cards!) are 50% off for the first 24 hours! Click here to follow me!
Thanks for checking out my preterite vs imperfect activity!
La Profe Plotts
Report this resource to TPT