Printable Digital Word Banks Vocabulary Writing Wall Poster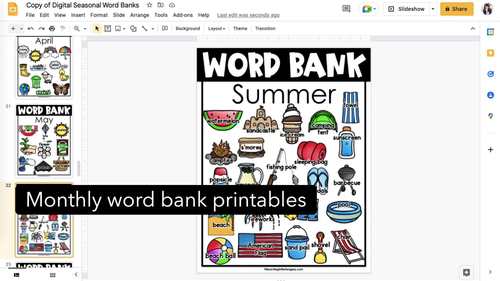 ;
PDF

Google Apps™
Includes Google Apps™
The Teacher-Author indicated this resource includes assets from Google Workspace (e.g. docs, slides, etc.).
What educators are saying
This has been a huge help for my1st grade classroom. Thank you for creating great resources to make our jobs easier!
These were great for my virtual teaching this year but am excited to use them in the classroom next year!
Description
These Printable Digital Word Banks posters are perfect for in the classroom AND distance learning. You can use the premade word banks, or customize your own with the included drag and drop word icons. You can use the digital version, or print your posters and keep in a writing center. This set also includes smaller strip sizes (perfect for students to keep on their desk/table or on a keyring to have as a fingertip reference). Available in color and black and white options.
Includes a PDF with a link to a Google Slides file which you can customize, print or use as a digital file.
Word Icons: hay, leaves, leaf, scarecrow, apples, crow, autumn, pumpkin, acorn, squirrel, vampire, jack-o-lantern, haunted house, ghost, candy, skeleton, trick or treat, bat, spider, witch, cauldron, full moon, grave, cat, costume, pilgrim, wishbone, Mayflower, Wampanoag, turkey roast, turkey, stuffing, cornucopia, potatoes, corn, rolls, gravy, cranberry sauce, pumpkin pie, table, casserole, mitten, snowman, shovel, snowglobe, cocoa, snowflake, sled, ice skating, icicle, snowing, scarf, jacket, snowpants, kikombe, kinara, muhindi, dreidel, Star of David, menorah, star, ornament, Nutcracker, Rudolph, sleigh, elves, elf, wreath, stocking, Santa, Christmas Tree, coal, holly, chimney, reindeer, cookies, gingerbread, New Year's Eve, equality, Mardi Gras, groundhog, heart, rose, Valentine, Cupid, card, leprechaun, gold coin, shamrock, Easter basket, bunny, eggs, chick, bunny, Easter, seeds, flower, raining, rainbow, umbrella, Earth, recycle, grow, puddle, duck, boots, wind, lamb, sunshine, butterfly, kite, bubbles, graduate, campfire, s'mores, fishing pole, sleeping bag, camping tent, watermelon, picnic basket, lemonade, sandals, barbecue, sandcastle, beach, fireworks, swimsuit, pool, sunscreen, popsicle, beach ball, American Flag, sand pail, shovel, chair, towel, ice cream
Digital Resources You Might Also Like:
⭐ Calendar Math Morning Meeting
⭐ Book Club Activities Literature Circles
⭐ Phonics Math Writing Pocket Chart BUNDLE
⭐ Stickers
Report this resource to TPT