Probability Print and Digital Math Task Cards, Quiz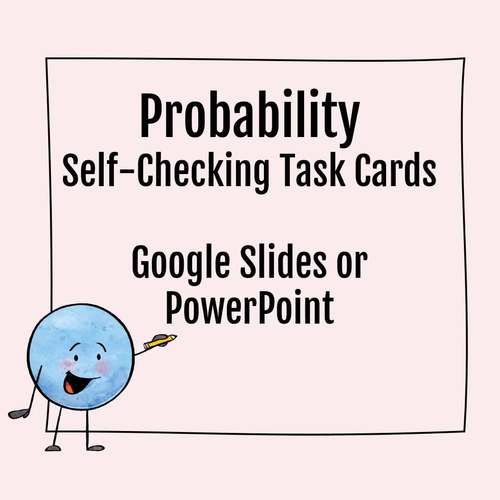 ;
Zip

Google Apps™
30 print and digital task cards, 8 exit tickets, Google Forms quiz, key, instructions
Includes Google Apps™
This bundle contains one or more resources with Google apps (e.g. docs, slides, etc.).
Products in this Bundle (2)
Also included in
Do you need 6th grade math activities to use throughout the entire school year? I've got you covered! Save yourself HOURS of planning and prepping time with the wide variety of notes and activities in this bundle!Give your students some new and creative ways to look at math concepts on a daily basis

Price $265.00

Original Price $490.99

Save $225.99

This HUGE middle school math full-year resources bundle includes a TON of material that addresses 6th grade and 7th grade math standards!Save yourself HOURS of planning and prepping time with the wide variety of notes and activities in this bundle!Give your students some new and creative ways to loo

Price $449.00

Original Price $791.74

Save $342.74

This 7th grade math bundle is PACKED with creative note-taking options, a variety of engaging activity types, and test prep materials to help you cover probability concepts, percent problems, inequalities, circle concepts, combining like terms, and more!Included in this bundle:1) 7th Grade Math Whee

Price $99.00

Original Price $191.00

Save $92.00
Description
These task cards for probability practice include both print and digital (self-checking!) versions, to cover whatever you need. Great for in-person and distance learning!
Check out the Preview above to see what's included and to see how the self-checking Google Slides task cards work.
Easy-prep print Footloose PDF includes:
30 Footloose task cards (a set with a background and a set without)
Footloose grid
Answer key
Instructions
8 Exit Tickets
PDF for Google Resources includes:
Link to Probability Task Cards in Google Slides (same 30 questions as Footloose)
Paper recording sheet
Link to Probability Quick Quiz in Google Forms (10 questions)
Instructions for cards and for quiz
Task cards, exit tickets, and quiz require students to:
Decide if events are certain, likely, as likely as not, unlikely, or impossible
Find the probability of events
Express probabilities as fractions, decimals, and percents
Find the number of possible outcomes in a sample space
Using the self-checking Google Task Cards:
Each card has answer choices in colored boxes – these are clickable. Students just need to select their answer and they'll move to a feedback slide, which will tell them if their answer was correct or incorrect.
Students should view in Presentation Mode
When students choose their answer in presentation mode, they'll automatically be taken to a "Correct" or "Incorrect" slide, so they'll receive immediate feedback.
Students can use the Back button to go back and review the question, and they could then try again.
The Next button on the Correct/Incorrect slides takes students to the next task card.
Please keep in touch by following me, to be notified when new resources are uploaded! Resources are 1/2 off for the first 24 hours, so it pays to follow:-)
*****************************************************************************
You might also like:
6th Grade Math Resource Bundle - resources for the entire year.
Common Core Daily Math Warm Ups for Grade 6
Total Pages
30 print and digital task cards, 8 exit tickets, Google Forms quiz, key, instructions
Report this resource to TPT
Standards
to see state-specific standards (only available in the US).
Understand that the probability of a chance event is a number between 0 and 1 that expresses the likelihood of the event occurring. Larger numbers indicate greater likelihood. A probability near 0 indicates an unlikely event, a probability around 1/2 indicates an event that is neither unlikely nor likely, and a probability near 1 indicates a likely event.
Approximate the probability of a chance event by collecting data on the chance process that produces it and observing its long-run relative frequency, and predict the approximate relative frequency given the probability. For example, when rolling a number cube 600 times, predict that a 3 or 6 would be rolled roughly 200 times, but probably not exactly 200 times.