Problem Solving Perfection Packet: 2020 Ontario Math Grade 2 & 3 PRINT & DIGITAL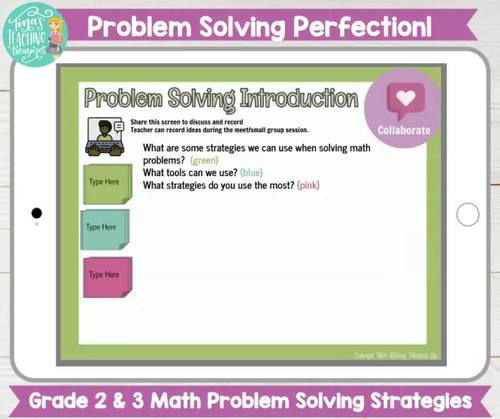 ;
PDF

Google Apps™
Includes Google Apps™
The Teacher-Author indicated this resource includes assets from Google Workspace (e.g. docs, slides, etc.).
What educators are saying
Great resource, my kids always love a craft to do with whatever we're learning. Also keeps the quick finishers engaged for longer. Thank you!
I like that this has practice questions for students to glue into their workbooks. My students really need practice with problem solving!
Description
Problem Solving Strategies and Ideas for Grades 2 and 3. FULLY UPDATED to align with the 2020 Ontario Math Curriculum!! DIGITAL and PRINTABLE included. Now includes Locked and Unlocked text interactive digital slides (Google Slides™️).
Problem-solving is a fundamental skill and hits on the purpose of mathematics.
Help your students understand, use and label their strategies with these activities.
Included:
*7 Anchor Chart Posters with specific, easy to understand strategies. (Choose from completed and ready to print, or Print and complete by co-creating with your students).
*8 Graphic Organizers- One for each strategy plus a blank one for your own class-created strategies. The organizers come with some prompts and structure to help students understand and include all elements of a complete answer.
*7 MODELLED LESSON materials. (Question, strategy and answer key). One for each of the strategies.
*2 Craftivities: Choose from Penguin or Popsicle (same content, seasonal theme varies). Each page includes a problem and students use the provided strategies to solve the question. When completed, the pages can be cut out to create a cute craftivity which makes a great bulletin board (titles included). [Digital includes Penguin only at this time].
*1 Cootie-Catcher- Perfect for partner problem-solving. Students play the cootie-catcher in the traditional fashion and solve the problems included. 8 Problems are provided in the cootie-catcher. [Digital version includes a student independent task and a partner Tic-Tac-Toe option included].
*5 Question Strips- Full page provided for modelling, Math Congress/Bansho, or taking up the answers as a class.
*Answer Key included
Report this resource to TPT