Project-Based Learning: Heritage {Printable and Digital Option}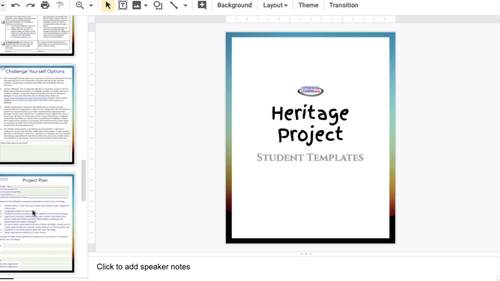 ;
PDF

Google Apps™
Includes Google Apps™
The Teacher-Author indicated this resource includes assets from Google Workspace (e.g. docs, slides, etc.).
Also included in
Resource Description: This project-based learning bundle combines several student-directed project-based learning resources all under the theme of personal identity. Students will explore their heritage, their family background, the generation they themselves belong to and those that came before the

Price $9.45

Original Price $13.50

Save $4.05

This bundle combines several student-directed project-based learning resources that are perfect for educators and students that are new to child-led project-based learning. You DO NOT need experience in PBL to facilitate these projects. This bundle was designed to help you and your students gain con

Price $18.55

Original Price $26.50

Save $7.95

This project-based learning lesson plan mega bundle includes a large number of ready-made student-directed project-based learning resources.This bundle eliminates all of the work on the front end of any project-based learning experience, saving you tons of time that you can instead spend on guiding

Price $101.33

Original Price $144.75

Save $43.42

This bundle combines several student-directed project-based learning resources that are perfect for back-to-school relationship-building. These high school get-to-know-you activities set the stage for personalized learning and a strong PBL culture.Help learners grow in intrapersonal awareness by exp

Price $17.55

Original Price $19.50

Save $1.95
Description
Resource Description:
Your students will dive deep into their heritage for this project! This is a great resource to get to know your students and for your students to get to know their peers. Learn about your students' diverse experiences through project-based learning.
Students will research their ancestry, migration patterns, genetics, family traditions or whatever aspects of their heritage interests them and are meaningful to them. They will work within the community, complete an authentic final product of their choosing (ideas available), and give an authentic presentation (ideas available).  This project was designed using project-based learning principles - student choice, innovation, relevance to students, and impacts the community.
This resource is Google Apps™ compatible. It includes a printable AND digital version. The digital version can be assigned to students via Google Classroom™ where students can add and share their content with you. No printing is necessary.
Note: The PDF is not editable. The digital version offers the option to overlay text and images and to remove or delete slides to fit your needs.
Grab my free self-directed project-based learning implementation spreadsheet to help you manage projects and progress!
This product includes:
Guidelines for teachers and students
Research templates - project options, planner, checklist, topic brainstorming activities, and discussion questions.
Project reflection
Project rubric
If you like this product, check out these activities as well!
Take a look at these free resources to guide with PBL experiences:
For more PBL guidance, check out these blog posts from Experiential Learning Depot:
Interested in new resource alerts, freebies, tips, tricks, and more?
Earn TPT Credits:
Follow Experiential Learning Depot and earn TpT credits by giving feedback on this product. A sincere thank you for your business. Feel free to contact me through email at any time with questions on this product - experientiallearningdepot@gmail.com
Cover Font Credit: Mr. FISK Fonts
Report this resource to TPT