Protein Synthesis Blueprint Activity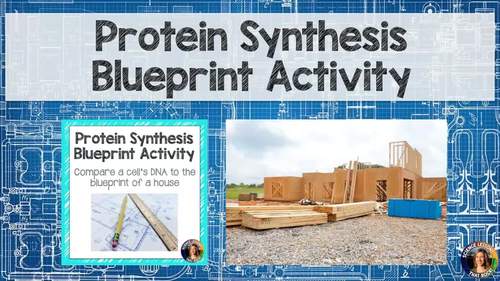 ;
5 student pages plus answer key
Also included in
This bundle includes everything you need to teach DNA and protein synthesis! Check the previews above to see everything included in this unit. Be sure to follow my TpT store by clicking on the green "follow me" next to my seller picture to receive notifications of new products and upcoming sales. Do

Price $43.52

Original Price $68.00

Save $24.48
Description
Do your students struggle with protein synthesis?
Can your students answer this question: Why do all cells in the body have the exact same DNA but they look and act differently? This activity will help! In this activity students will learn how our DNA is like the blueprint of a house. The blueprint holds all the information needed to build the house, but different people use different information from it. The electrician uses information on the blueprint to install wiring and outlets, while the plumber uses different information to install water pipes and toilets. Our DNA is the same way! Students will also learn about promoter sequences and how specialized cells use promoter sequences to transcribe and translate the needed genes.
In this activity students will take on 4 roles: the framer, plumber, electrician, and roofer. Each job has a different promoter sequence within the DNA. Students will look for the associated promoter sequence, transcribe and translate the DNA, and use the blueprint chart to determine the characteristics (alleles) of the house. By the end of this activity students will have a good grasp on how different cells only use portions of the genome.
Included in your purchase is both a printable PDF and digital Google slide version.
You might also be interested in:
Protein Synthesis close reading
Protein Synthesis review puzzle
Protein synthesis interactive diagram
Be sure to follow my TpT store by clicking on the green "follow me" next to my seller picture to receive notifications of new products and upcoming sales. 
Don't forget to leave feedback to earn TpT credits that can be used for future purchases! 
Want free tips and resources sent to your inbox once a week? Subscribe to my newsletter! You can also...
♻️ Check out my blog
♻️ Follow me on facebook
♻️ Follow me on instagram
♻️ Follow me on pinterest
Total Pages
5 student pages plus answer key
Report this resource to TPT
Standards
to see state-specific standards (only available in the US).
Ask questions to clarify relationships about the role of DNA and chromosomes in coding the instructions for characteristic traits passed from parents to offspring. Assessment does not include the phases of meiosis or the biochemical mechanism of specific steps in the process.