Pumpkin Life Cycle - Pumpkin Reading Comprehension - Fall ELA Activities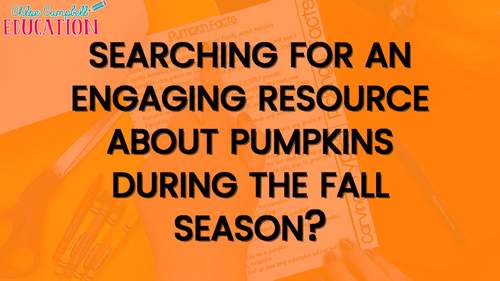 ;
Description
This informational text is perfect for learning about fall and pumpkins during your reading or science class. It includes two pumpkin non-fiction texts, comprehension questions, and several interactive activities. Keep your students engaged during a high-energy time of the year with this fun 9 page flipbook!
Print, staple, cut, read, write, and interact with text!
*This resource does not include anything related to Halloween, in case you have students in your class who do not celebrate it.
This 9 Page Informational Flip Book Includes:
Page 1: Title Page (Perfect Pumpkins)
Page 2: Pumpkin Facts, Pumpkin Terms
Page 3: Pumpkin Life Cycle, Pumpkin Term Matching Activity
Page 4: Picking Pumpkins Article
Page 5: Picking Pumpkins Graphic Organizer
Page 6: Types of Pumpkins Article
Page 7: Types of Pumpkins Comprehension Questions
Page 8: Pumpkin Carving Steps
Page 9: Perfect Pumpkin Writing Prompt and Pumpkin Carving Drawing
Other Resources You'll Absolutely LOVE! ❤
Teaching Duration
2 hours
Report this resource to TPT