Pumpkins Interactive Book - WH Questions - October Speech Therapy Activity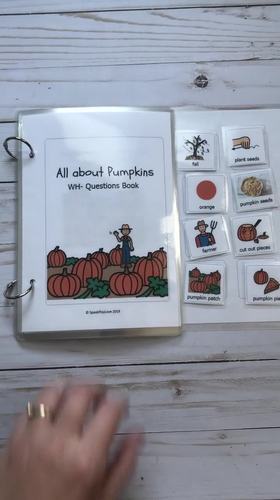 ;
Also included in
This fall interactive books bundle is perfect for working on WH- questions and learning about pumpkins and apples! Both books include "who, what, when, where" and "how" questions. Plus, the apples resource includes three levels of yes/no questions. (Psst . . . these books are part of my Fall Languag

Price $3.75

Original Price $4.50

Save $0.75

Do you need to work on WH Questions year-round? This bundle of WH Questions has a combination of question cards and interactive books with lots of visuals! Interactive books and Task Cards are included for each season as well as two non-themed WH question card sets! When you buy these resources as a

Price $33.50

Original Price $45.25

Save $11.75

Do you love interactive books? This bundle of interactive books includes a WH- question on every page with visual choices. With books for each season, you'll have interactive books to use all year! (Great for speech therapy or special education)(Psst . . . this resource is part of my WH- Questions M

Price $10.60

Original Price $13.25

Save $2.65

Looking for visuals-based, fall activities for your language therapy students? This bundle of speech therapy fall activities includes Fall WH Questions, Fall Object Function Questions, two fall-themed Interactive Books, a Craft, "My Favorite Things about Fall" Booklet, and an apple describing topic

Price $9.00

Original Price $11.50

Save $2.50

Looking for visuals-based activities for your language therapy students? This bundle of early language therapy activities will provide activities throughout the year!This Year-Long Bundle includes the following bundles:Back-to-School Language BundleFall Language BundleWinter Language BundleSpring La

Price $42.75

Original Price $62.75

Save $20.00

Are you looking for fun pumpkin activities for speech therapy or special education to use this October? These pumpkin-themed activities include lots of visuals, making them ideal for students on the autism spectrum or who use AAC!This Pumpkin Activities Bundle includes"All about Pumpkins" Interactiv

Price $5.20

Original Price $6.50

Save $1.30

Looking for visuals-based activities for students working on early language skills? This bundle of early language speech therapy activities includes TONS of activities you can use throughout the year with both themed and non-themed resources.When you buy this bundle, you save 40% compared to buying

Price $79.75

Original Price $134.83

Save $55.08
Description
This Pumpkin Interactive Book with WH questions can be used in speech therapy and special education classrooms during the fall/autumn season! The visuals can be especially helpful for students on the autism spectrum.
(Psst . . . this resource is part of my Fall Language Bundle and my Early Language MEGA Bundle at a big discount!)
Pumpkin Interactive Book with WH Questions:
On each page, the Interactive Book includes
1-2 sentences to teach students about pumpkins,
a picture to aid in comprehension and maintain interest,
one related WH question with visual choices
The final page includes visual choices for the questions that students can pull off and place on the appropriate page.
Questions include "who, what, when, where" and "how" questions. You can see the full book by clicking "view preview."
(Would you prefer a BOOM Cards version of this resource? Click here to view.)
Related Resources:
Halloween "Favorite Things" Booklet
Connect with Speak Play Love:
Click here to follow me on TpT (New resources are 50% off for the first 48 hours)
Report this resource to TPT
Standards
to see state-specific standards (only available in the US).
Understand and use question words (interrogatives) (e.g., who, what, where, when, why, how).